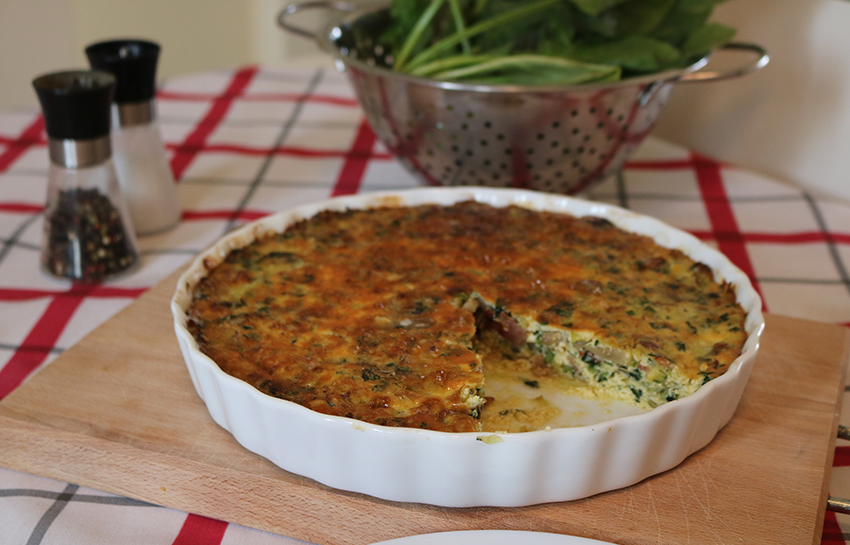 Crustless Leek & Mushroom Quiche (Confused Frittata!)
Anyone know the difference between a quiche & a frittata? Would it help if I told you that "frittata" is Italian for fried? The answer… Quiches are typically baked in an oven, while a frittata starts off as fried beaten eggs on a pan that are often finished in an oven. And did I mention that a quiche has a crust, while a frittata doesn't? Our recipe this week is a "Crustless Quiche"" or maybe you could call it a "Confused Frittata"! It's meant to be a flexible recipe,  so go ahead and throw in other veggies you have in addition to/or in place of what we've listed. This recipe is not only simple, tasty & delicious, it's also the perfect way to clear out the fridge by using up whatever veggies are left over at the end of the week. Buon Appetito!
Serves 6
Ingredients
3 leeks (white & light green parts) diced
200g mushrooms sliced
150g bacon diced (around 6-8 slices)
2 spring onions chopped
2 cups finely chopped spinach
4 eggs
1 egg yolk
½ milk
½ cup cream
¼ Parmesan cheese grated
2 tbsp unsalted butter (a little extra for greasing)
Olive Oil
Sea salt & cracked pepper
Method
Pre-heat oven to 180°C.
Grease pie dish with butter.
Heat some olive oil in a large non-stick frying pan and sauté the leeks until they are soft. You may need to reduce the heat so the leeks don't burn.
Set leek aside in a large bowl.
In the same pan add a little more olive oil and sauté the spring onion. Once they have browned slightly, add the bacon and cook until the bacon has browned.
Add the mushrooms and 2 tablespoons of butter and sauté until the mushrooms have softened. Add the spinach and cook until soft.
Remove from the heat and add the sautéed ingredients to the leek. Add the Parmesan and season with salt and pepper. Stir to combine the ingredients evenly and then put the mixture into the pie dish covering the dish evenly and pressing down a little.
In another bowl, whisk the eggs, egg yolk, milk and cream. Season with salt and pepper.
Pour the egg mixture over the dish and cook in the oven for 30-35 minutes.
Serve with a fresh leafy salad & enjoy!!