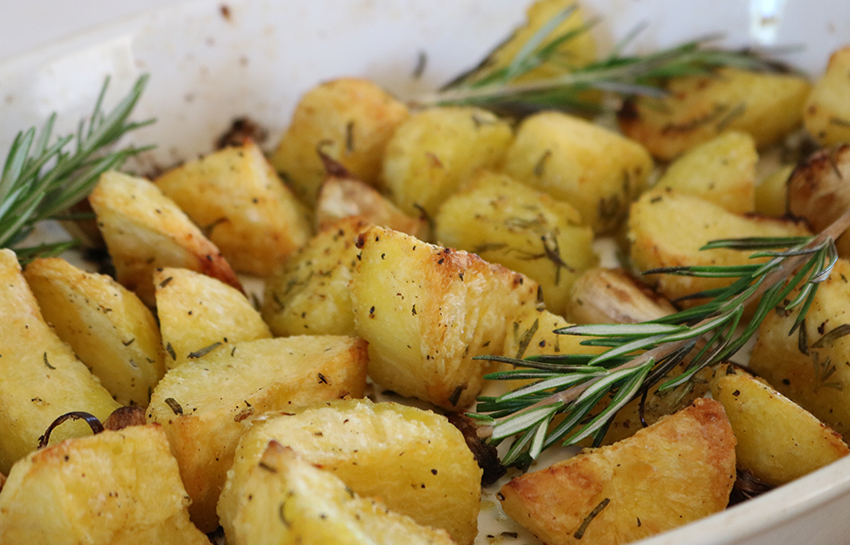 Twice Cooked Rosemary & Garlic Potatoes
Who doesn't love potatoes?
If you're like me, you'll love them every way — roasted, mashed, fried, boiled, baked… in pies, in soups, as a salad….
Ok, you get my drift!
Potatoes are super practical, extremely versatile, cheap, delicious and a satisfying veggie. Perfect in mains like roast lamb & potatoes, gorgeous in pies, and a wonder as a finger food at parties. Let me tell you, these twice cooked rosemary & garlic potatoes were sooooo sooooo good they didn't make it to dinner table!
Wanna know what makes them so good? Sure you do!
First of all, we sourced the absolutely best quality ingredients, starting with the star of the show — peak season, locally grown brushed potatoes from Cummaudo Farms in Mirboo North. Just under 2 hours from our Top Shelf Ashburton store, these potatoes are some of the best going round! You also want to get the best salt, like Murray Valley, A-Grade olive oil, and fresh rosemary to complete your shopping list.
Going twice cooked means extra fluffy on the inside, the major benefit of the boiling process, and super crispy, crunchy and bang full of flavour on the outside from part two of the cooking process –- the roasting! And, of course, all the delicious ingredients, once roasted, just burst full flavour.
My expert prep tip if you are preparing for a party or guests is to do the boiling long before guests arrive, and then you can finish the potatoes off in the oven when it's time for dinner to be served. This way you'll have more time to entertain & enjoy a glass of wine or bubbles with your guests before dinner is served!
Twice cooked rosemary & garlic potatoes are absolutely worth the effort. Make sure you comment & tell us if you agree that they're the best roast pots ever!
Buon appetito!
Ingredients
5 brushed potatoes, peeled & cut into pieces
4-5 garlic cloves smashed skin on
2 tbsp chopped fresh rosemary, 2 sprigs for garnish
¼ cup olive oil
Sea salt & cracked pepper
Method
Put potatoes in a pot of salted water and bring to the boil. Boil for 5 minutes then drain. Let sit so that all the water drains out.
Pre-heat the oven to 200°C.
In an oven dish, put potatoes with the chopped thyme, garlic, olive oil, salt & pepper and mix well to coat the potatoes evenly.
Bake in the oven for 45-50 minutes or until crisp and golden on the outside, tossing a few times during cooking process.
Serve garnished with fresh rosemary.