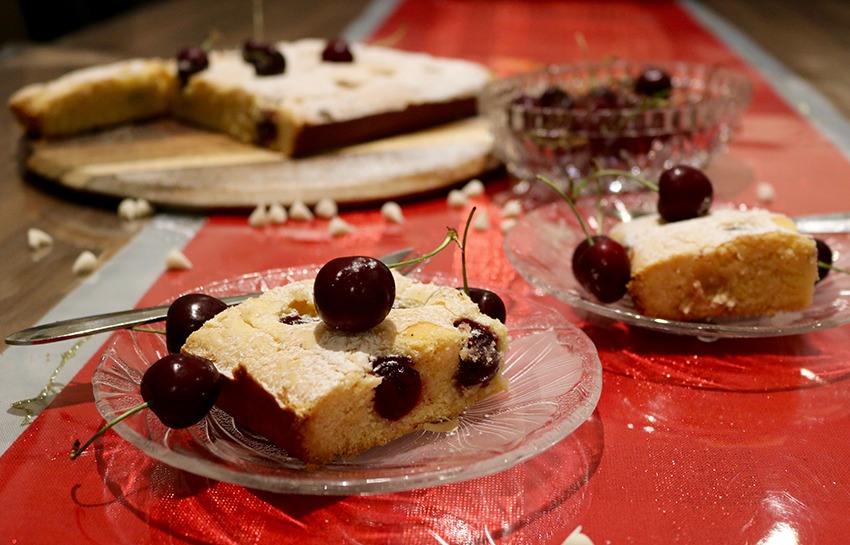 Cherry Blondies
When I think Blondies…
I don't usually think a white chocolate & cherry brownie!
Instead,
I'm taken back to the late 70s & early 80s….
When I had one of my first crushes ever on the blond bombshell…
And punk rock singer of the same name!
Debby Harry and the cherry blondies will now both have a special place in my heart.
The latter an unexpected surprise.
Unexpected because I'm not usually a fan of white chocolate.
But in this case…
The tartness of the delicious cherries..
The gooiness of the brownie…
And the glamorous appearance on the plate
Made my 2018 experience of blondie (almost) as memorable as my memories of the original blondie when I was a kid.
My biggest tip for this dessert is…
Be sure to serve with lots of fresh cherries as they really give the sweet dessert the freshness and balance that it needs.
And I must admit that I forgot some fresh mint which would have added some extra freshness and the finsihing touch to make this the perfect Xmas desert.
Buon appetitto
– – – – – – – – – –
Ingredients
100g butter chopped
2 eggs lightly beaten
½ cup caster sugar
1 cup plain flour sifted
½ cup self-raising flour sifted
1 cup white cooking choc chips
1 cup cherries pitted
1 tsp vanilla extract
¼ tsp salt
Icing sugar for dusting
Method
Pre-heat oven to 180°C.
Line a small rectangular baking dish with baking paper. Grease the tray first so that the paper stays in place.
In a pan melt the butter and white chocolate on a medium-low heat. Once melted, set aside for around 5 minutes to cool slightly.
Add the sugar, salt, egg, vanilla and flour to the pan and stir to combine.
Add the mixture to the baking tray and smooth our evenly.
Push cherries into the mixture and bake in the oven for around 30 minutes or until the brownie looks golden and has slightly browned on the edges.
Allow to cool in the pan. Cut into pieces and serve dusted with icing sugar.