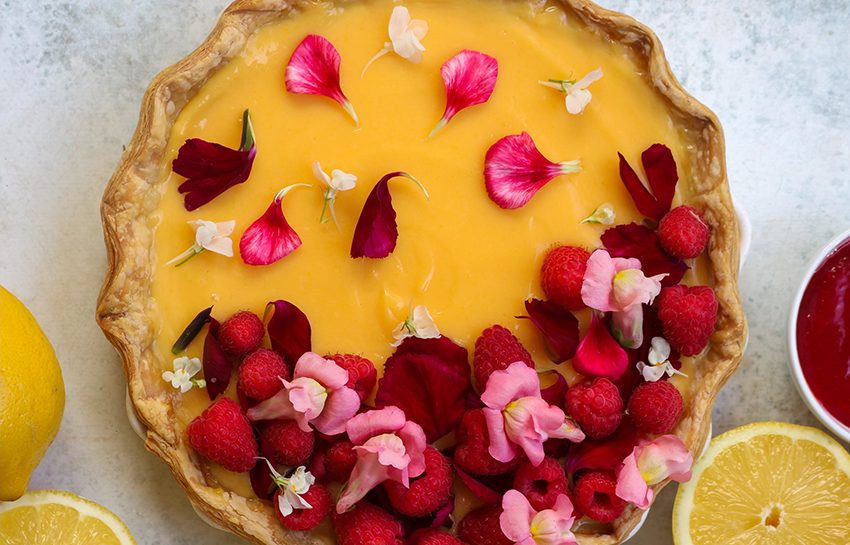 Lemon Custard & Curd Pie
We are excited to showcase a local recipe developer this week, Victoria from Style My Plate.
– – – – – – – – – –
Top Shelf Fruits & Fine Foods is a very nostalgic and happy place for me. Growing up, mum used to take me here after school to pick up all our fresh fruit and veg. I remember walking down the adjacent lanes, gazing up at all the delicious produce, taking in all the fruity smells of the fresh produce rainbow.
Since then, Top Shelf Fruits & Fine Foods have expanded their range to also include local and imported grocery lines that include a large free-from and organic range. From shelf to fridge to freezer, Top Shelf Fruit & Fine Foods have something for everyone.
What makes me love Top Shelf Fruits & Fine Foods even more, is they are a family owned small business which has been up and running for three generations, opening up over 50 years ago by Joe and Jason's grandfather Giuseppe. Today, the two sons and their father continue that legacy doing what they love to do.
This Lemon Custard & Curd Pie has been made with fresh produce, pantry, freezer and fridge products from Top Shelf Fruits & Fine Foods.
Quick Lemon Curd — If you are time poor or simply can't be bothered making your own berry coulis and lemon curd, Top Shelf Fruits & Fine Foods also have pre-made selections on offer, such as 'Mrs Darlington's Legendary Lemon Curd'.
– – – – – – – – – –
Ingredients
Pie Crust
1 Carême 445g box of Sour Cream Shortcrust Pastry, available from the freezer section
1 x 23cm pie dish
Lemon Curd Layer
70g unsalted butter
120ml fresh lemon juice
85g True Free Range Caravan eggs, yolks only
66g granulated sugar
grated zest of one lemon
1/8 teaspoon salt
Custard Layer
6g lemon zest
100g granulated sugar
14g corn flour
340g Schulz Organic Full Cream Milk
57ml St David Dairy Pouring Cream
57ml buttermilk
64g True Free Range Caravan eggs, yolks only
113g True Free Range Caravan eggs
60ml fresh lemon juice
1/2 teaspoon vanilla extract
1/4 teaspoon fine sea salt
Raspberry Coulis
250g fresh raspberries
15ml fresh lemon juice
25g granulated sugar
7g cornflour whisked together with 25g granulated sugar
1 teaspoon Backyard Honey
Finishing Touches
fresh raspberries
edible flowers
Method
Par-Baked Pie Crust
Allow your pastry to defrost in the fridge. Once pliable, cut out a round which is at least 26cm in diameter.
Place the round inside your 23cm pie dish, gently pushing the dough into the bottom and sides of the dish. Now cut three strips of pastry, and line the sides of the dish, using egg wash to make it stick, trimming where necessary.
Leave in the fridge for 20 minutes to allow the pastry to become firm. Meanwhile, pre-heat your oven to 190°C, fan-forced, with the oven rack positioned in the lower third of the oven.
Once pastry is firm, dock the base and sides with a fork, then place baking paper and pie weights on top.
Bake in the pre-heated oven for 16-18 minutes, until slightly golden. Take out of the oven, remove the pie weights and baking paper and bake for an additional 3 minutes. Allow to cool completely.
Lemon Curd Filling
Melt 56g butter in a medium saucepan, over medium heat. Add the sugar, lemon juice, zest, salt and yolks and use a whisk to combine.
Switch over to a silicone spatula and reduce the heat to medium-low. Continually stir for 6 minutes, ensuring you scrape the sides and bottom of the saucepan.
Once you are able to run your finger along the spatula and a clean line holds, stir in the remaining butter. Once melted, remove from the heat and strain the curd into a bowl, then into a heat proof container. Cover with cling wrap, placing it directly on to the curd surface and put in the fridge for at least 2 hours.
Custard Filling
Once your pie crust is cool, pre-heat oven to 155°C, fan-forced with the oven rack positioned in the lower third of the oven.
In a large bowl, rub the lemon zest into the sugar. Now add the cornflour, whisking to combine.
Add the cream, buttermilk, eggs and egg yolks. Whisk until well combined. Finally add the lemon juice, vanilla extract and salt, whisking until combined. Pour into a jug.
Place the par-baked pie crust on a baking tray, then carefully pour the custard filling into it. Ensure not to over-fill – if you have left over don't pour this in (You can heat this up on the stove, stirring with a whisk and eat it while you wait for your pie to finish).
Bake for 50 minutes, or until the edges appear to be set but the centre is still slightly jiggly. Allow to cool completely, then rest in the fridge for at least 2 hours.
Raspberry Coulis
Meanwhile, add the berries, sugar and lemon juice in a small pot of medium-low heat. Stir occasionally, breaking down the fruit as your stir, until they become very soft and broken down, about 10 minutes.
Strain the fruit through a fine sieve, discarding the solids. Place the mixture back into the saucepan and stir in the cornflour/sugar. Stir over low heat until it thickens, about 2 minutes. Now add the honey and stir in to combine.
Transfer to a heat proof container and allow to cool until ready to serve.
Assembly
Once all the elements are complete, it is time to put together your pie. Using an offset spatula, gently spread the lemon curd over the surface of the custard.
If you have time, ideally allow for it to set in the fridge for at least 30 minutes.
Now arrange the edible flowers and berries on top of the lemon curd.
Serve with cream and raspberry coulis.