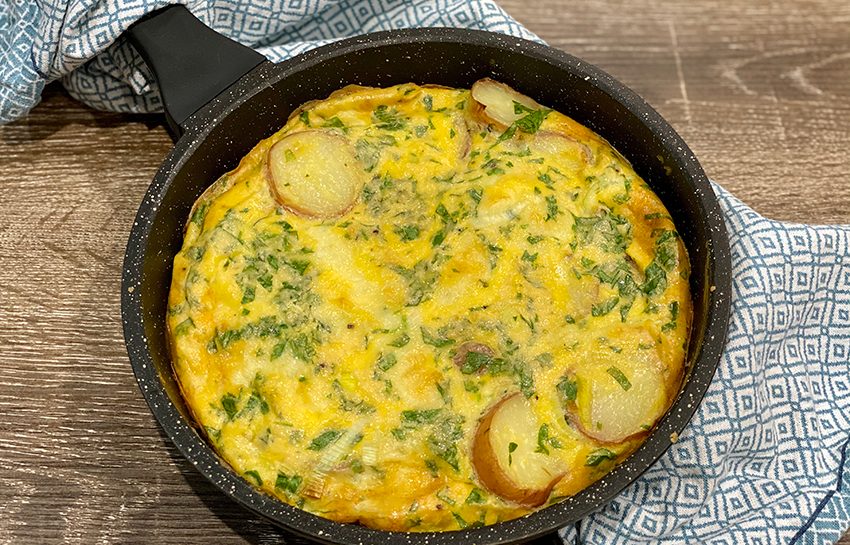 Leek & Potato Frittata
Frittata is always a crowd pleaser and the best thing about them is how quick and easy they are!
You can mix up the herbs if you want too. Thyme, coriander, oregano – any herbs you want really.
Throw in some bacon to up the flavour, maybe some chorizo cubes; there really aren't any rules to abide by!
– – – – – – – – – –
Note: This recipe suits a 20 cm deep frypan.
Ingredients
8 baby potatoes
1 leek, sliced
1 tbsp olive oil
5 eggs, beaten
A small handful parsley, chopped
2 cloves garlic, crushed
2 tbsp cream
80g French soft cheese, chopped
Method
Preheat oven to 180°C.
Boil the potatoes in salted water until just tender, drain and slice into circles.
In a 20cm non-stick deep frypan, fry the leek in 1 tbsp olive oil for 1 min, then add garlic and potatoes and sauté for a couple of minutes.
Combine eggs, parsley, cream and cheese in a bowl and add to pan.
Pop on a lid and fry for 3 mins then pop in the oven for 12 mins. Check to see if the egg mixture is set, if not, return to oven for 2 mins at a time until just set.