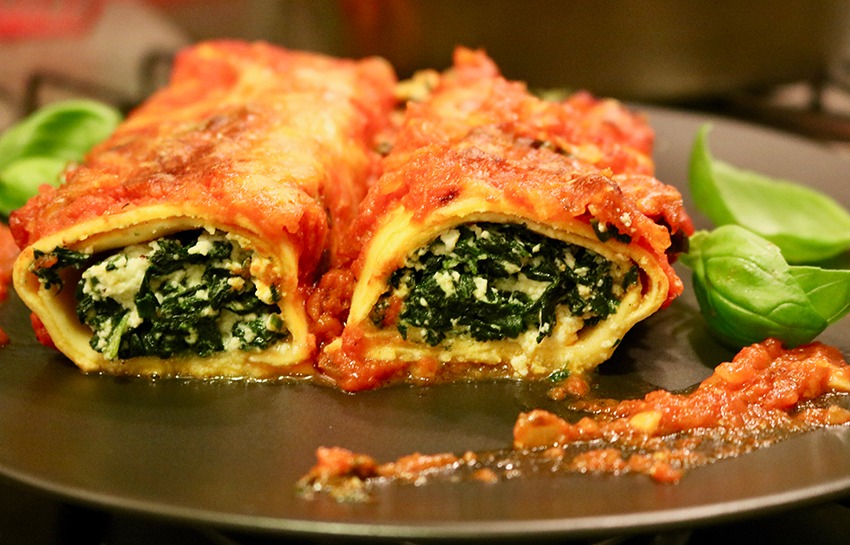 Spinach & Ricotta Cannelloni
It wasn't one of my favourites as a kid…
And not even in my top ten during my 20s and 30s,
But with time,
And I would like to think "maturity",
My palette has evolved,
As have my feelings toward spinach…
Of the English…
And bunched variety to be precise!
There's something lovely and warming…
That I find about cooked spinach these days,
And even more so when it's combined,
With fluffy…
Creamy & fresh ricotta,
Then stuffed into fresh pasta cylinders,
Topped with lovely tomato passata,
Mozzarella & Parmesan for saltiness and flavour,
And baked in an oven,
Before it's served hot,
Piping hot…
On a very cold and almost chilly,
Melbourne winter's night!
You probably guessed that this week's dish of the week,
Is none other than the southern Italian classic,
Spinach & ricotta cannelloni!
My version,
Like the original,
Uses fresh pasta sheets,
Which we have in store for those wondering!
Almost everything else,
Also stays true to the original,
Except for one notable omission in my version,
No egg in the spinach and ricotta mix.
Why?
Because I forgot!
And you know what…
It actually made for a lighter mixture,
Which still kept good form while cooking,
And it even allowed me to enjoy a third piece,
When I'd normally eat two!
A fresh garden salad would work fantastically,
And I have served it with plenty of freshly shaved grana.
A glass of red would have been perfecto,
Yet I resisted being a school night!
A simple dish,
That would make many a nonna proud.
All that's left to say is..
Buon appetito!
– – – – – – – – – –
Ingredients for the Filling
1 bunch English spinach
500g ricotta
1 pickling onion diced
1 garlic clove diced
¼ cup grated Parmesan
½ cup shredded mozzarella
Freshly grated nutmeg
2 tbsp olive oil
Sea salt & cracked pepper
Ingredients for the Sauce
400g crushed tomato
2 cups tomato passata
1 cup water
½ tsp dried oregano
A handful of fresh basil
3 pickling onions diced
2 garlic cloves diced
¼ cup olive oil
Sea salt & cracked pepper
Ingredients for the Cannelloni
4 large fresh lasagne sheets
½ cup shredded mozzarella
¼ cup grated Parmesan
A little olive oil
Method
Pre-heat your oven to 180°C.
To start the sauce, heat the ¼ cup olive oil in a medium pot on a medium-high heat. Sauté the onions until they are translucent. Add the garlic and when you can smell the garlic, about 1 minute in, add the crushed tomatoes, tomato puree and water.
Add the oregano and season with salt and pepper to taste then bring to the boil.
Once it has come to the boil, reduce it to a simmer and cook until the sauce reduces, about 35 minutes. In the last 5 minutes stir in the fresh basil leaves.
For the spinach filling, wash the spinach thoroughly and then chop up finely.
In a large pan, heat the 2 tbsp olive oil on a medium heat and sauté the onion and garlic clove for 1 minute.
Add the spinach and cover with a lid. Lift the lid and stir occasionally and cook until the spinach has wilted and season with pepper. Set it aside to cool.
Once cooled, with your hands, wring the spinach to get rid of the excess fluid then put it into a large bowl.
Add the ricotta, ¼ cup Parmesan, ½ cup mozzarella and season with salt and pepper, then grate some fresh nutmeg into it.
With your hands, mix everything together until they are combined evenly.
Ladle some sauce to cover the bottom of an oven proof dish that will fit the cannelloni.
Divide the spinach and ricotta mixture between the 4 large lasagne sheets and roll them up.
Put them into the oven dish and cover with the remaining sauce.
Sprinkle with the mozzarella and Parmesan over the top, drizzle with some olive oil and bake in the oven for 35-40 minutes.