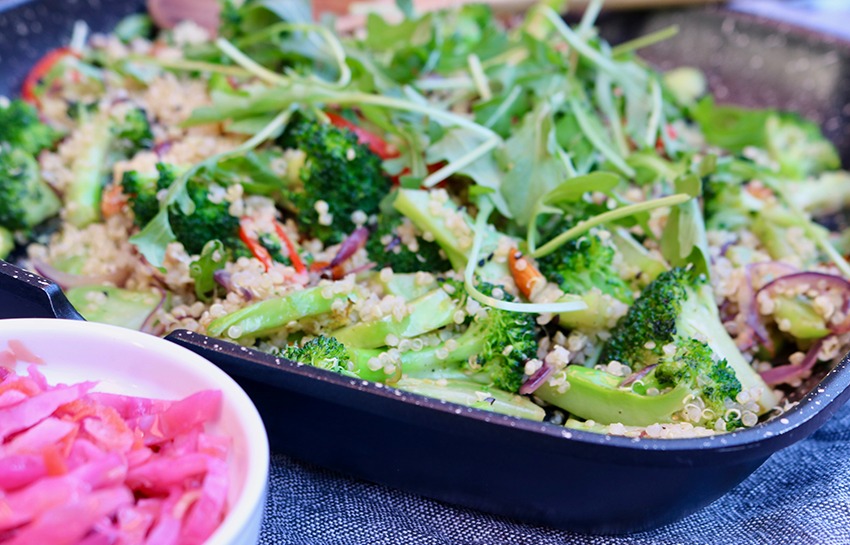 Broccoli & Quinoa
As a 20-something year old Uni student…
Way back when Uber didn't exist…
And internet was barely conceived…
In a time when you had to order over the phone…
Of the fixed line type for those that recall those things…
If I had to pick my go-to "healthy" meal,
I'd answer boldly,
And without hesitation…
Black pepper beef with broccoli!!
Soft, tender and suspiciously succulent beef,
Combined with fresh and delicious,
Vibrant green broccoli…
Both drowned in gelatinous black pepper gravy,
Which some might call a sauce,
And served on top of a bed of fluffy steamed white rice!
This was my definition of healthy…
And healthy was damn delicious!
I'd always order the beef & broccoli,
With a side of Chinese sausage,
Also drowned in a sauce,
Of the dark soy varietal!
And like many others,
Who have had a penchant for Chinese takeout…
I arguably looked forward to the crispy…
Crunchy…
And often quite oily,
Complimentary prawn crackers,
As much as the main event itself!
All of this,
The beef & broccoli,
The Chinese sausage…
And the crispy prawn crackers…
Washed down with a cold,
And refreshing,
1.25l bottle of coke!
That's how We….
My uni buddies and I,
Used to do it back in the '90s…
And I confess that…
Once in a while,
That's how I do it today!
More often than not however,
And because I actually care about my health,
Somewhat more than I did way back then,
I now make use of broccoli in a tad healthier way than I did back then!
My dish today,
Takes inspiration from my beef & broccoli days…
But with a more sophisticated diner in mind…
One that cares about his waistline,
As well as his health,
Yet is still keen for flavour,
To jump off the plate!
So how to achieve all this,
Without heavy sauces,
Prawn crackers & coke?
Chilli, garlic, onion…
Just like the old days,
But for starters,
Let's replace the gluggy black pepper sauce,
With a lighter,
More subtle vinaigrette.
Next up,
Say goodbye to steamed white rice…
And say hello to our little friend,
Gently boiled quinoa.
And for banging flavour,
Top it all off with a homemade,
Mediterranean style kimchi…
Of pickled cabbage!
Chopped almonds,
And Good quality olive oil,
River or sea salt,
And pepper,
Bringing all the additional flavour that you could possibly need.
I forgot about the meat…
And so should you in this case…
With all that's left to say now being…
Buon appetition!
– – – – – – – – – –
Ingredients
2 broccoli heads, florets separated, stems cut and sliced
1 handful rocket
1 cup cooked quinoa
1 medium red onion sliced
1 long red chilli sliced
¼ cup chopped almonds
1 garlic clove diced
1 tsp black sesame
Olive oil
Sea salt
Cracked pepper
For the Dressing
½ tsp mild English mustard
¼ cup olive oil
2 tbsp white wine vinegar
Method
In a large pan, heat some olive oil (enough to cover the base of the pan) on a medium heat.
Add in the broccoli and cook for 2 minutes, then add the onion. Cook for a couple of minutes then add he chilli and garlic together. Season with salt and pepper.
Keep cooking until the broccoli is tender. Turn down the heat to avoid the ingredients browning.
Add a little extra olive oil if the mixture is drying out.
Remove from heat and gently toss through the quinoa and almonds. Add the rocket and toss to combine.
Season again to taste.
In a jar add the olive oil, vinegar, mustard and some salt and pepper and shake to combine.
Serve with the dressing and some kimchi on the side.