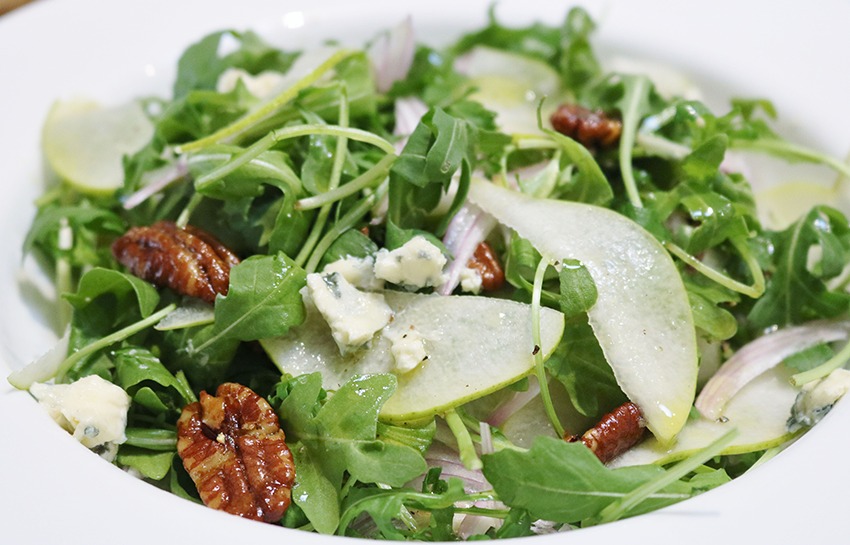 Pear & Pecan Rocket Salad
What a wonder sugar & butter are!
Combined…
And within only a few minutes…
The duo transform humble ingredients…
Like our delicious Aussie pecans…
Into sweet, crunchy & even more wonderous surprises!
Amongst the peppery wild rocket leaves…
French blue cheese…
Fromage Bleu for the sake of this introduction,
Given I can't remember the exact name!
Give a zing and a zap –
A saltiness & a punch…
That simply leaves me wanting more!
I had considered making this as I had for many years…
By just throwing the pecans in raw!
I'm so glad I took the extra few minutes to caramelize the pecans.
And I get that it's a little less healthy but…
Once every now & then,
We all need a little self indulgence!
Surely you agree?
I bet you do!
Enjoy your salty caramel pecans!
And the salad too!
Buon appetito!
– – – – – – – – – –
Ingredients
2 William pears quartered & sliced thin
120g rocket leaves
1 small red onion sliced
40g blue cheese
2 tsp caster sugar
½ cup pecans
2 tbsp olive oil
1 tbsp white wine vinegar
½ tsp honey
Sea salt
Cracked pepper
Method
In a small pan over a low heat, melt the butter and sugar. Add the pecans and cook, stirring for 5 minutes. Remove from the heat and pour the pecans over grease-proof paper and let them cool.
For your dressing, in a jar add the olive oil, honey, vinegar, salt & pepper and shake to combine.
In a large serving bowl, arrange the rocket, pears, pecans, cheese & onions in layers. Pour over the dressing & season with some salt then serve.