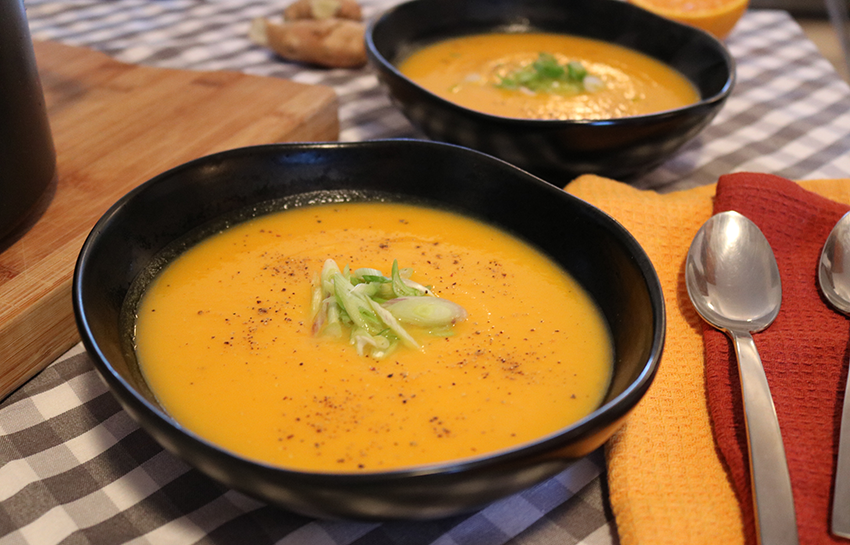 Orange, Pumpkin & Ginger Soup
What better way to beat the winter chill than with a delicious autumn soup? Pumpkin is in abundance at the moment, and new-season navel oranges were this week's pick of the week, so we thought we'd combine the two to bring you this bright, warm and bursting full of flavour orange, pumpkin & ginger soup! Serve with a simple rocket leaf salad and pair with a glass of bold Chardonnay. If you're not so brave and prefer a glass of red for the colder weather, try a soft and silky Italian Sangiovese!
Serves 4
Ingredients
Juice of 2 oranges
Zest of 1 orange
600g pumpkin peeled, cored & cut into cubes
2 carrots cut into pieces
1 red onion chopped
2 cloves of garlic minced
1 tsp ginger finely chopped
500ml good quality vegetable stock (like Moredough Kitchens)
2 springs of spring onion sliced finely
Olive oil
Sea salt & cracked pepper
Method
In a medium pot, heat some olive oil on a medium-high heat and sauté the onion until it is caramelized. You don't want the onion to burn so reduce the heat as required.
Add the carrot and the pumpkin and continue to sauté for about 4-5 minutes.
Add the garlic, ginger, orange zest and give it a good stir.
Add the orange juice and cook for 2 minutes, then add the vegetable stock.
Season with salt & pepper.
Bring to the boil and then reduce to a simmer for about 25-30 minutes, or until veggies are soft.
Once veggies are soft, remove from the heat and, with a hand blender, blend until you have a nice smooth textured soup.
Serve garnished with spring onion.
Buon appetito!