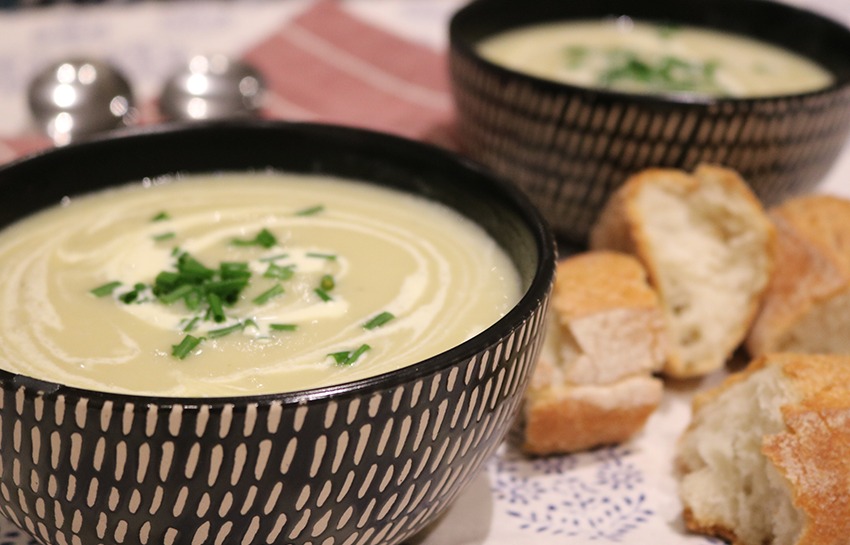 Potato Leek Soup
Pepper, chives and crusty bread…
These three are an absolute must with this week's recipe of the week,
Potato & leek soup!
With the Melbourne weather getting to ridiculous lows…
The warm up this soup will give you is just what the doctor ordered.
Sautéing leek brings out such a lovely sweetness and flavour,
And a wonderful aroma too.
If you pay close attention,
You should be able to smell the leek before it even hits your mouth!
For the potato,
We've chosen Dutch cream!
As the name suggests,
Dutch creams have a rich, creamy taste and feel…
And they've got a higher moisture content than other potatoes,
Which makes them less starchy and ideal for soups!
The sweetness of the leek,
And the sweetness of the creamed potato,
Can get a little much.
So make sure you season with good quality salt and pepper as a contrast.
A parmesan chip,
Or even grated parmesan could work too.
And I've chosen chives,
But you could also go for chopped parsley for even more freshness.
Velvety and luscious,
Super quick and easy,
Potato and leek soup should be everyone's friend this winter!
Buon appetito
– – – – – – – – – –
Ingredients
3 leeks white parts chopped
900g Dutch cream potatoes cubed
1 red onion diced
80g butter
7 cups chicken or vegetable stock
¼ cup chopped chives for garnish
½ cup cream (& a little extra for garnish)
1 bay leaf
Sea salt
Cracked pepper
Method
In a large pot melt the butter over medium heat.
Add the red onion and leeks and sauté for 2 minutes.
Add the potatoes and sauté for another 2-3 minutes.
Pour in the stock, bay leaf and season with salt and pepper and bring to the boil. Once it's come to the boil reduce to a simmer and simmer, covered for 15 minutes.
Remove from the heat and allow to cool a bit before blending.
Once cooled, remove the bay leaf and discard then put soup in a blender or food processor and blitz until smooth.
Pour back in the cleaned pot add the ½ cup of cream and heat before serving. Serve garnished with a drizzle of cream and a sprinkle of chives.
Tip: If the soup is too runny, when re-heating you can simmer it uncovered to reduce and thicken it a bit.