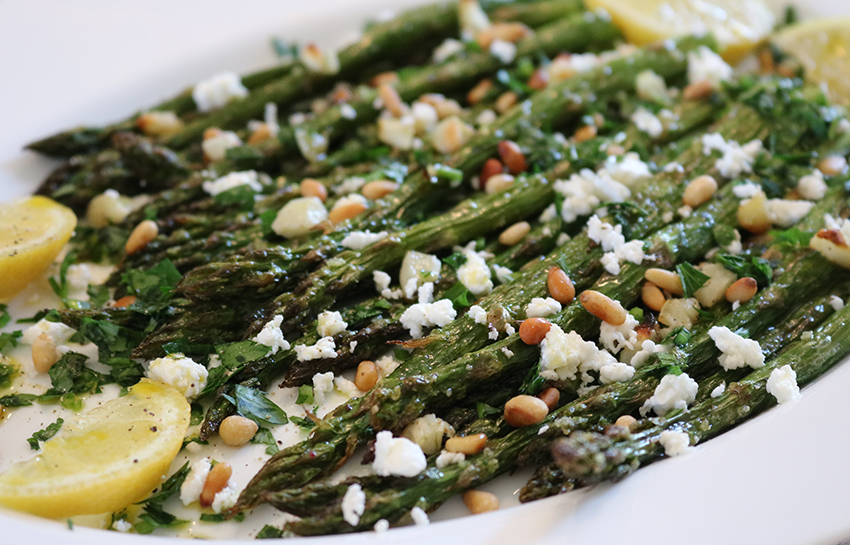 Roasted Asparagus With Feta & Pine Nuts
Oysters, hot chilies & chocolate are all known aphrodisiacs, but sex is not what the average person thinks of when faced with green vegetables! It may be time to Think again! Asparagus is one of the sexiest of all green vegetables and it was first celebrated for its aphrodisiac powers in al-Nafzawi's "The Perfumed Garden," which is a 15th Century Arabic sex manual! Following that a 15th or 16th century Indian sex manual called the "Ananga Ranga" also suggests aphrodisiac properties due to special phosphorus elements that also give you energy. This recipe is definitely tasty, simple, nutritious… and for those that are interested in it's other powers, get your hands on some asparagus today!
Ingredients
500g asparagus
1 lemon
10-15g feta cheese
1 tbsp pine nuts
1 tbsp parsley finely chopped
3 garlic cloves chopped coarsely
Olive oil
Sea salt & cracked pepper
Method
Pre-heat the oven to 200°C.
Snap the bottoms off the asparagus and discard, then thoroughly wash the asparagus and dry them.
In a dish, add the asparagus, 1 tablespoon olive oil, the garlic and season with salt and pepper. Toss well so the asparagus is evenly coated in olive oil.
Line an oven tray with baking paper.
Place the asparagus mix on the oven tray and cook in the oven for 8-10 minutes. Vary the cooking time a couple of minutes either way to get your desired texture & color.
While the asparagus is in the oven, dry fry the pine nuts in a non-stick pan on a medium to high heat. When they are nicely roasted, put them in a bowl and lightly season them with salt & pepper. Be careful that you don't overcook the pine nuts as they will continue to cook in the pan even when it's taken off the heat.
Remove asparagus from the oven and arrange on a serving dish. Scatter pine nuts & crumbled feta over the asparagus & garnish with the parsley. Squeeze some lemon juice over the top, drizzle with olive oil & serve.
Serve with a beautiful piece of fish or steak & be loved by all the family!
Buon Appetito!