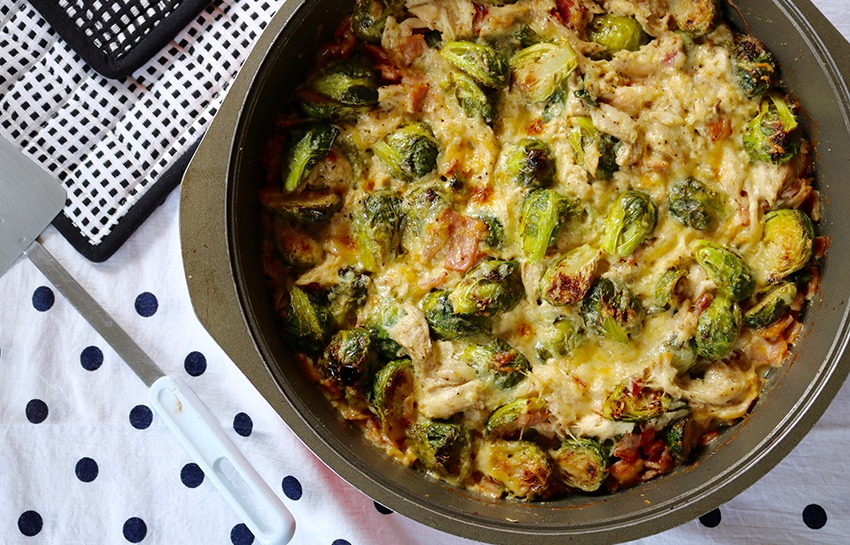 Creamy Chicken, Brussels & Bacon Bake
When I googled "Top 5 Least Favourite Vegetables" earlier today,
It didn't surprise me that coming in at number 1,
On more than one least favourite list…
Was the Brussels Sprout!
A member of the cruciferous family,
Which includes the closely related cabbage,
And other kiddie favourites like broccoli and cauliflower,
The Brussels do have an intense and somewhat bitter flavour,
And can be a challenge for those who haven't yet acquired a taste for them.
To counter the bitterness,
Some strong flavours are needed,
Like nutty garlic…
Smoky grass fed bacon…
And sharp and salty parmesan cheese.
I've thrown all these ingredients together,
In a not so elegant way…
Combining new season, gorgeous SA Brussels sprouts,
Plenty of cooking cream,
Mozzarella for ooze…
Plus other bits of goodness,
So if there was ever a dish,
To convert those who sat on the against side of the Brussels fence,
This may well be the one!
It is not for the faint hearted,
And a little too heavy for lunch.
This dish is the perfect comfort dinner,
Served with a glass of chilled chardonnay,
Lots of crunchy sourdough bread,
And maybe a fresh garden salad,
To balance out the richness…
Which there is plenty of in this dish!
If you're a Brussels sprouts fan,
You'll love this dish…
And if you're on the fence,
This will tip you over to the dark side.
For the uninitiated,
Give it a go,
You'll be impressed beyond Brussels belief!
All that's left to say now is,
Buon appetito!
– – – – – – – – – –
Ingredients
500g Brussels sprouts washed and cut in half
150g bacon diced
3 garlic cloves chopped finely
400g thickened cream
1 cup mozzarella
½ cup grana padano parmesan
2 cups cooked shredded chicken
3 tbsp olive oil
Cracked pepper
Method
Pre-heat your oven to 200°C.
Heat an ovenproof dish and cook the bacon until nice and crisp.
Remove the bacon and add the olive oil, then the Brussels sprouts, flat side down and cook until they have browned nicely.
Add the bacon and the garlic and stir with a wooden spoon for a minute or until you get the aroma of the garlic.
Add the shredded chicken and stir to evenly combine the ingredients.
Add the cream and some cracked pepper and mix well, cooking for about 1 minute.
Remove from the heat and cover with the mozzarella and parmesan. Give it a little stir, not too much so the cheese can stay on top.
Put in the oven and cook for 15-20 minutes or until the cheese has melted and browned on top.
Add some more cracked pepper and serve hot. You can add salt however the bacon and parmesan are already salty so taste it first as it may not need any.