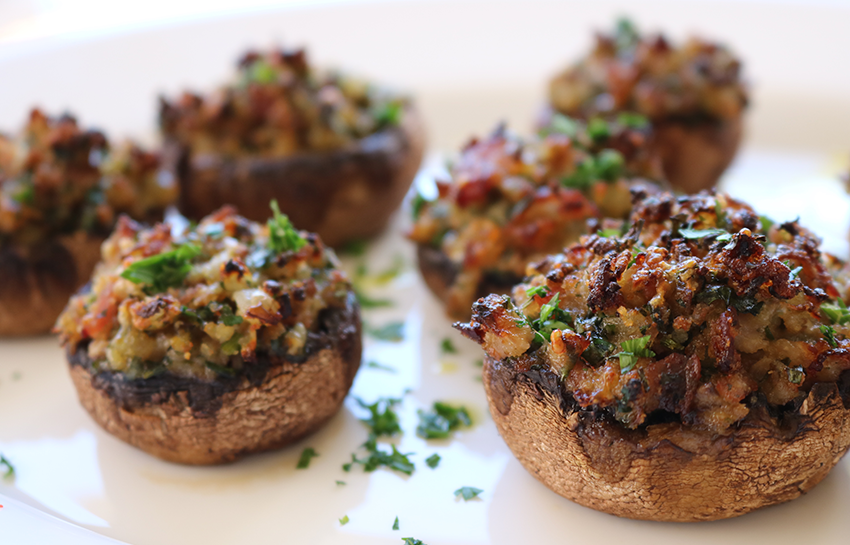 Pancetta & Parmesan Mushrooms
"Pancetta & Parmesan" sounds so much more sophisticated than "Pizza & Pasta"…
Don't you think?
And this week's recipe of the week is exactly that…
Not because it's sophisticated, but because it smells & tastes sexy, subtle & sophisticated too.
Joe's pick of the week was assorted Victorian mushrooms, so…
Rather than making a pasta dish or a tart, we went for stuffed & baked pancetta & Parmesan mushrooms to allow our Victorian hero to shine!
And the mushrooms sure did shine.
The mushrooms' velvety & meaty albeit vegetarian flesh were contrasted by a nice little char particularly around the lip of the mushies.
There was sweetness in smell & flavour from the sautéed onion & a gorgeous nuttiness from the garlic – both balancing the saltiness of the pancetta & the Parmesan.
I confess that I love seasoning with salt, but with this dish I was unusually very light handed on the salt as there was plenty of natural salt coming from the "two P's".
And as the flavours combine into a rather rich dish, freshness from the parsley was absolutely needed to keep it all singing in harmony.
On the matter of harmony, we went for a squeeze of lemon after taking the mushrooms out of the oven, which also worked brilliantly on the palette against the natural oil from the pancetta.
I have previously made this dish with lemon zest through the mix, which also gives it another lift.
Why didn't I do it here?
Because I forgot!
But you could easily add some zest if you like citrus.
When it comes to selecting mushrooms, we went for a smaller (Swiss brown) cup as we ate it as a side dish.
You could just as easily go for a larger Swiss Flat, which is our preference when we are eating this as a main.
Two Swiss flats with a lovely green salad of rocket should hit the spot.
And maybe a glass of Pinot Grigio seeing as we are going Italian with all the rest.
Buon appetito!
– – – – – – – – – –
Ingredients
500g Mushrooms (we've used Swiss browns)
80g pancetta chopped
2 garlic cloves diced finely
1 small red onion diced
¼ cup parsley finely chopped & a little extra for garnish
2 tbsp breadcrumbs
1/4 cup grated parmesan cheese
2 tbsp olive oil & extra for drizzling
Sea salt & cracked pepper
Method
With a paper towel, wipe the mushroom cups clean. Remove the stems and arrange the mushroom cups on a baking tray then set aside.
Chop the mushroom stems finely.
In a pan, heat 2 tablespoons olive oil & sauté the onion on medium-high heat until onions are just translucent. Add garlic & once you smell the garlic, around 1 minute, add the mushroom stems & sauté for another 5 minutes. Season with pepper. Remove from the heat and put the mixture into a bowl to cool.
Pre-heat your oven to 180°C.
Once the mixture has cooled slightly in the bowl add the parsley, pancetta, breadcrumbs & Parmesan. Mix well so that all the ingredients combine nicely. Season with just a touch of salt and some cracked pepper (the cheese & pancetta will give it extra saltiness).
Fill the mushroom cups with the mixture using a small spoon. Drizzle with some olive oil and bake in the oven for around 15 minutes.
Serve garnished with parsley and a little drizzle of olive oil.