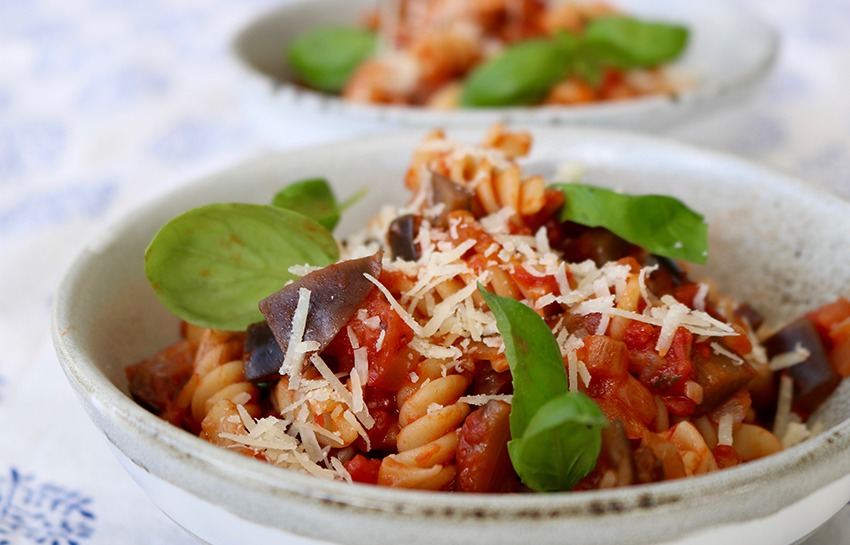 Pasta Alla Norma (Tomato & Eggplant Pasta)
Tomato & basil is a match made in heaven…
But that's where this story ends!
So let's start with "Norma"!
Pasta alla norma is the simple,
Yet famous Italian pasta dish…
That combines tomato, eggplant and pasta.
Rumour has it,
That the famous Italian writer…
Nino Martoglio,
Exclaimed "Norma" when he tasted the dish…
Suggesting it was perfect just like the Italian opera Norma,
By Vincenzo Bellini (isn't there a drink named after that guy?)
Anyways…
Wiki may or may not be telling me the truth about the name,
But I know first hand that of all Italians,
Sicilians are probably best known for it…
And it's one of the islands most iconic dishes.
When you've been to Sicily,
Especially in the summer,
It's easy to see why the Norma made sense.
Eggplants and tomatoes are everywhere!
Although it's close to 20 years since I visited,
I remember it like yesterday…
The gorgeous smell of vine ripened tomatoes adorning grocers' shelves,
Eggplants, fresh herbs,
And red hot chilli…
Hung out to dry and colloquially referred to as "Viagra Naturale" by the locals!
I'll leave it up to you to work out what the nickname for chilli means…
It's not too "hard" to work it out!
Anyways,
These iconic Italian ingredients combine for an amazing eggplant and tomato sauce,
And although I can't be sure whether spaghetti or penne was the go to in the original version,
I'm pretty happy with my choice of fussili pasta…
The spirals creating a void for the sauce to fill,
Making each mouthful tastier than the next.
Having said all that,
And loving it so much to this point,
It's two ingredients we've not yet touched on,
Which take this dish to the next level.
Freshly shaved Grana Padano is a must…
For any Italian will tell you it is a mortal sin to serve pasta without it…
And our little green friend,
Basilico…
Aka basil,
Gives us a lovely aniseed flavour,
Some freshness and as I said in the opening line,
Is a tomatoes best friend,
Giving the dish some sex appeal,
And bringing together all the flavours in this unforgettable Sicilian classic.
Pasta alla norma is historic and iconic for a reason…
It's simple and delicious,
All that's left to say now is…
Buon appetito!
– – – – – – – – – –
Ingredients
2 large eggplants diced
1 brown onion chopped finely
3 garlic gloves chopped finely
2 cups basil chopped
2 400g cans chopped tomatoes
1 500g pack spiral pasta
2-3 cups starchy pasta water
1 tsp sugar
Olive oil
Salt and pepper
Method
Cook the pasta as per the packet instructions, but remove a couple of minutes before the cook time on the packet. Reserve 3 cups of the starchy pasta water before you strain the pasta than set the pasta aside.
In a large pot, heat some olive oil. Add the eggplant and cook on a high heat until they brown. Remove and set aside.
In the same pot, heat some more olive oil and sauté the onion until it is translucent. Add the garlic and once you can smell the garlic, add the eggplant and cook for a couple of minutes.
Add the canned tomatoes, 2 cups of the water and the sugar, than bring to the boil. Reduce to a simmer, season with salt and pepper and cook for 25 minutes stirring occasionally. If the sauce reduces too much, add some or all of the extra cup of water.
In the last few minutes of the cooking process, add the pasta and the basil and stir well to combine.
Serve with grana padano parmesan and garnished with some fresh basil.