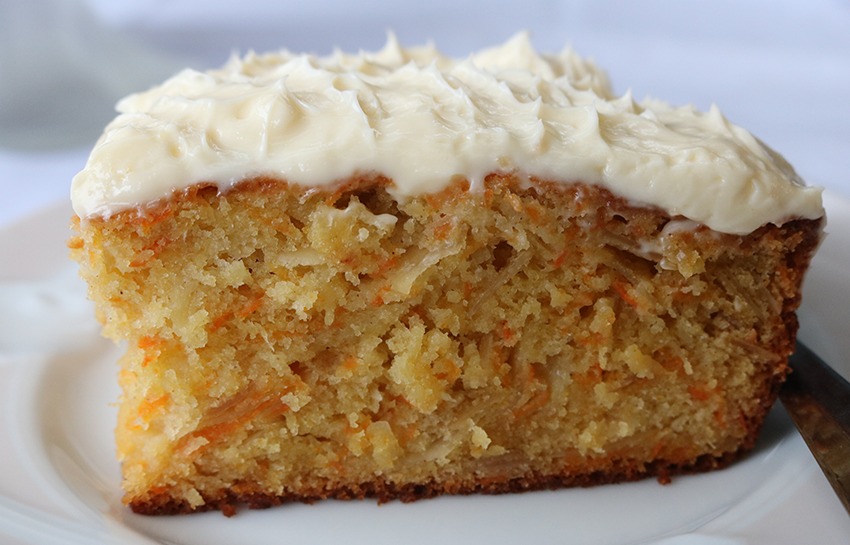 Super Easy Carrot Cake Cream Cheese Frosting
A fluffy cloud of white speckled goodness…
Sweet & creamy, with a hint of tang,
Sits atop a moist,
Yet super fluffy sponge cake,
Of the carrot variety!
Carrots are sweet and crunchy,
And our local Victorian carrots are as good as any in this week's recipe of the week!
Chopped almonds make for a lovely textural experience,
As too does the carrot which remains the real hero of this dessert.
The wonderful aroma of sweetness is the first thing that will captivate your culinary imagination as you take the cake out of the oven,
And it really gets the palette salivating!
A hint of vanilla will come through too,
When you and your neighbours,
Or family and friends,
Enjoy a piece of carrot cake with a lovely cup of tea this weekend!
Buon appetito.
– – – – – – – – – –
Ingredients
2 cups shredded carrots
3 cups self-raising flour
2 cups caster sugar
1 cup of olive oil
1 cup chopped almonds (can use walnuts)
1 500g can crushed pineapple with the juice
4 eggs
1 tsp vanilla essence
1 tsp salt
Cream Cheese Frosting
250g cream cheese
50g butter softened
½ cup icing sugar
½ tsp vanilla essence
Method
Pre-heat oven to 180°C.
Whisk the sugar together with the olive oil until well combined.
Add the eggs and the vanilla essence and mix together to combine.
In a large bowl sift the flour & salt then add the wet mixture to the dry ingredients and with a wooden spoon stir to combine.
Add the carrot and almonds to the mixture and stir to evenly combine.
Grease a 25cm x 20cm baking dish and pour in the mixture. Bake in the oven for 1 hour or until a skewer inserted comes out clean.
Remove from baking dish to cool.
With an electric mixer, beat together the cream cheese, butter, vanilla and icing sugar until fluffy.
Once the cake has cooled, spread frosting over the top & serve.