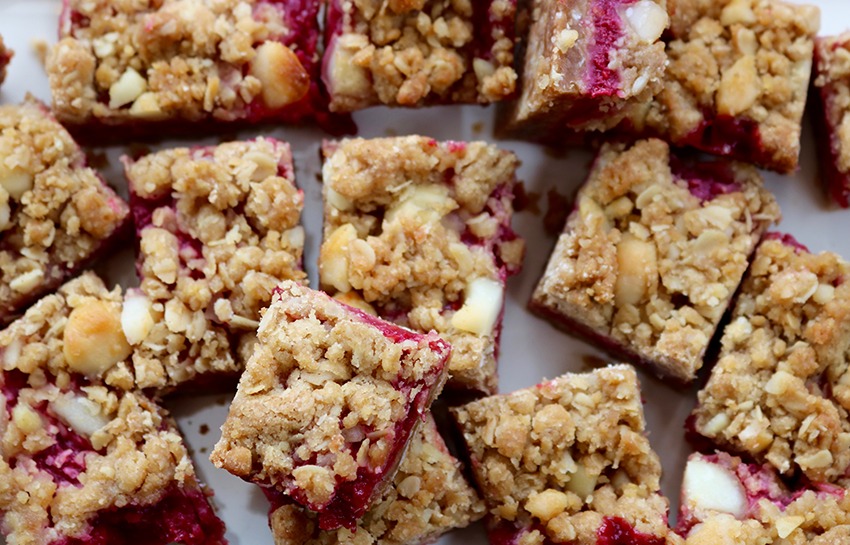 Raspberry & Macadamia Crunch Bars
Sweet…
Crunchy…
Tart…
And delicious,
With a hint of salt!
That's my short description,
Of this week's Foodie Friday's recipe of the week…
Raspberry & Macadamia Crumble Bars!
I'm not a massive sweet tooth,
But once in a while,
I enjoy something sweet, but not too sweet!
Deserts that are made with fresh fruit,
Full of spices like cinnamon or cloves,
And a good dose of nuts,
Peanuts, walnuts or even macadamias…
And in this case,
A sprinkle of salt!
Yep,
To keep this sweet baby in check,
We've added a good pinch of Murray Valley River salt,
Which works well in balancing the sweet, caramel biscuit-like base.
And the raspberry couli…
Although tart,
Has had the sweetness edge taken off…
With a good squeeze of lemon!
The top layer is super,
Giving more crunch and texture to the blissful mouthful.
I added macadamias in the crumble.
Which I reckon make these raspberry bars so memorable!
Portion sizes are up to you…
But I've cut our bars into random mouthful bites,
Mainly because I wasn't thinking it through,
And that worked out just fine,
With some wanting a larger piece than others!
Raspberry & Macadamia Crunch Bars are grown up with fresh fruit & all…
But 2 of my 3 kids agreed that it could be a hit at any kids party!
To be enjoyed with a nice cup of tea,
Good in lunch boxes…
Or if you want something to hit the sweet tooth spot after dinner,
Raspberry & Macadamia Crunch Bars have got you covered!
The only thing left to say is…
Buon appetito!
– – – – – – – – – –
Ingredients for the Raspberry Filling
375g fresh raspberries (3 punnets)
¼ cup raw caster sugar
1 tbsp plain flour
1 tsp cornflour
1 tsp vanilla extract
Juice of half a lemon
Ingredients for the Crumble
1 ½ cups oats
1 cup plain flour
1 cup brown sugar
170g salted butter
½ tsp baking powder
½ tsp cinnamon
½ cup macadamias
Pinch of salt
Method
Pre-heat oven to 180°C.
In a large bowl mix the raspberries, caster sugar, flour, cornflour, vanilla extract and lemon juice and stir with a wooden spoon until well combined.
In another large bowl add the oats, flour, brown sugar, butter, baking powder, cinnamon and salt. With your hands mix the ingredients together until its evenly combined and forms a crumble.
Line a 17x24cm baking dish with baking paper. Press 2/3 of the crumble mixture evenly onto the base of the baking dish. You can use a spatula to press it down firmly. Bake in the oven for 10 minutes.
Using a mortar and pestle, crush the macadamia nuts into smaller pieces. Add the macadamia pieces to the remaining crumble and mix together to combine.
Remove the base from the oven. Add the raspberry mix in an even layer on top of the baked base.
Sprinkle the remaining crumble and macadamia mix over the top and bake for around 30-35 minutes.
Remove from the oven and allowing to cool slightly then put in the fridge to chill overnight.
Remove from the fridge the following day and cut into squares and serve.