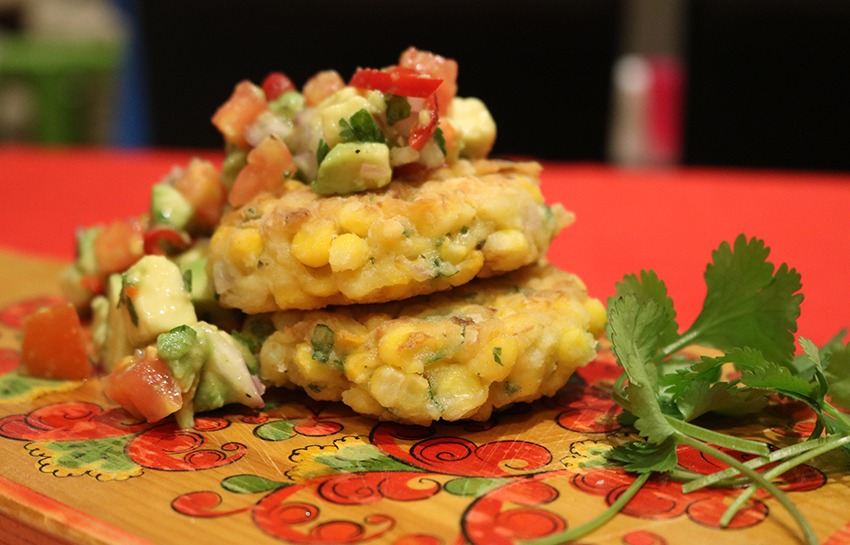 Corn Fritters with Avo Salsa
We move away from the Mediterranean this week…
And head to South America,
Where the staple of that region, corn,
Features in our recipe of the week…
Corn fritters with avo salsa!
Our corn is Aussie grown,
In Bowen, North Queensland…
And it's sweet, firm & pops in the fritter!
But the fritters alone are like a pizza base without toppings.
They need something to bring them to life,
And the zingy, zesty, fresh & full of flavour salsa,
Is just what the fritter needed!
Tomatoes are on special this week,
And form the foundation of our salsa.
There's a good hit of heat from the red chillies,
And creaminess from superb in season Hass avocado.
Whilst the coriander & lime evoke memories of our holiday in Mexico some years back,
When we enjoyed Mojitos and tacos whilst watching the Mexican sunset,
Over the north east Mexican peninsula…
A place where you'd be happy to get lost for a long, long time!
We had them for dinner & left overs for lunch,
But you could also have them for brekkie or brunch…
And you can prepare the mixture in advance,
Throw it in the fridge for a day or two,
And cook them up fresh each time!
Buon appetito
Or as they say in Spanish,
Buen apetito!
– – – – – – – – – –
Ingredients for the Fritters
3 cobs of corn
1 red onion diced
2 eggs whisked
½ cup chopped coriander & extra for garnish
1 cup plain flour & a little extra to dust the fritters
1 tsp baking powder
Sea salt
Cracked pepper
Olive oil
Ingredients for the Salsa
3 tomatoes diced
2 avocadoes diced
½ red onion diced
½ cup coriander chopped
Juice of 1-½ limes
1 long red chilli sliced
Sea salt
Cracked pepper
Method
Boil the corn until tender. Drain and when cooled, cut off the kernels.
While the corn is cooking, put all the ingredients for the salsa in a bowl and mix to combine well. Set aside.
Sauté the onion for the fritters in a small pan on a medium heat and set aside.
In a bowl combine all the ingredients for the fritters and stir well to combine evenly. The mixture will be sticky.
Cover the base of a frying pan with olive oil and heat. With a spoon scoop out some fritter mix and dust in some flour. Fry on low heat in the frying pan until golden brown on both sides. Repeat until all the mixture is finished.
Serve topped with the avocado salsa and garnish with some fresh coriander.