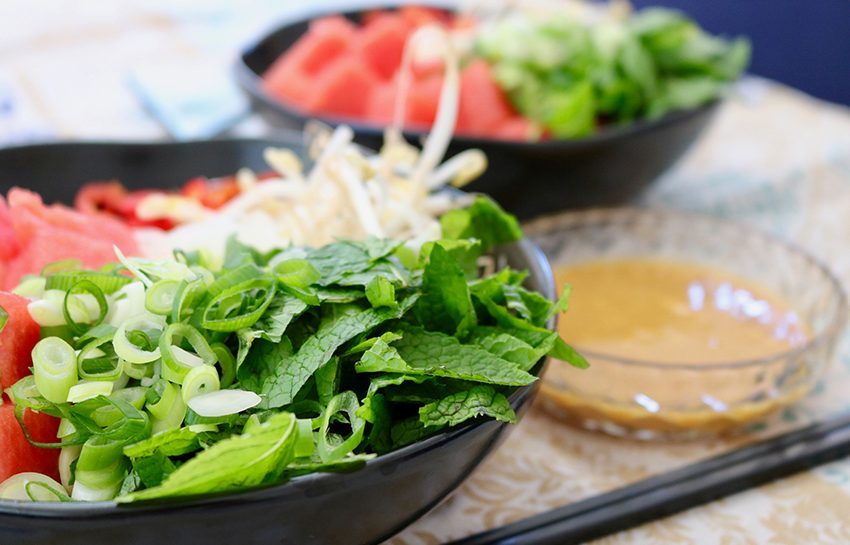 Minty Watermelon & Noodle Salad
I could easily classify lunches into 2 groups…
Those that leaving me feeling heavy and stuffed…
And those that leave me feeling light and energised!
Don't get me wrong.
They can both be delicious!
It's just that I prefer the ones that make me feel stuffed on the weekends,
And those that make me feel light and energetic on weekdays.
Unless it's a public holiday of course,
And then all rules our out the window!
On this occasion,
Light and energetic came in the form of a Vietnamese inspired salad.
Why?
Maybe because it was hot…
And maybe because what else could you cook with mint as the star of the show?
Two good enough reasons in my books.
Plus there was a load of watermelon in the fridge,
So rather than putting them together in a juice or a smoothie,
I thought we'd combine them into a meal.
And what a treat it was.
Some punch from red chilli.
And even more from our peanut sauce.
You might wanna add some chicken or prawn…
But I think if there was a better protein,
It could be dry fried from tofu.
Why?
No reason,
Other than that's what my taste buds were telling me.
In all seriousness,
If you're looking for quick and easy meal this summer,
Add this salad to your repertoire no matter what the protein,
Because it's simply delish!
All that's left to say now is…
Chúc ngon miệng…
Vietnamese for,
Buon appetito!
– – – – – – – – – –
Ingredients
1 bunch mint, roughly chopped
4 spring onions, tops trimmed, sliced
2 long red chillies, sliced
4 cups diced watermelon
1 cup beansprouts
250g vermicelli noodles, cooked as per packet instructions
For the dressing
2 tbsp peanut butter
2 tbsp apple cider vinegar
1 tbsp dark soy sauce
3 tbsp olive oil
2 tbsp honey
Juice of ½ a lime
1 garlic clove, crushed
1 tbsp ginger, chopped finely
Method
Add all the ingredients for the dressing into a jar and shake well to combine the ingredients.
Divide the other ingredients between 4 bowls and drizzle with the dressing.
Serve! Super easy!!