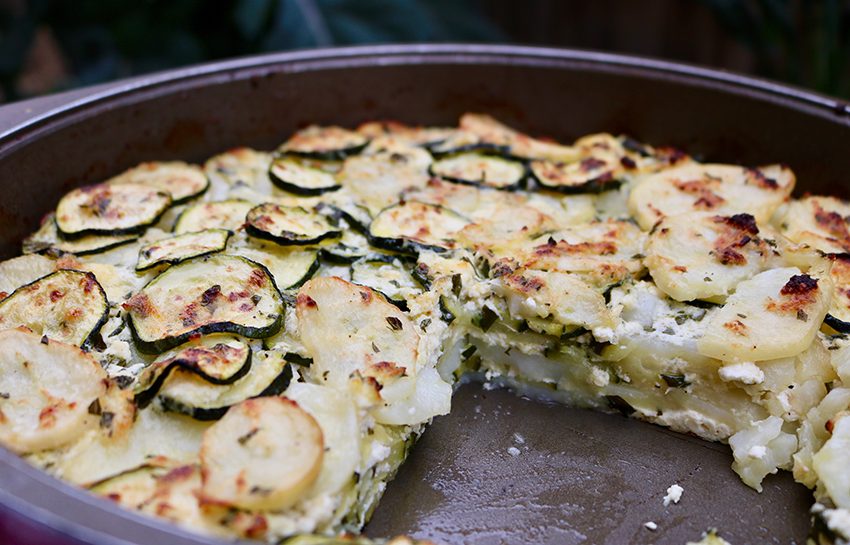 Cretan Style Boureki
Looking back…
On my time living on the Greek island of Crete,
If I had to pick the top lesson learnt,
About Greek cooking,
It would have to be using seasonal ingredients.
One of my all-time favourite cooking mentors in Greece,
Was a wonderful and charming lady,
Who shared my mothers and daughters name,
Kiria Eftyhia.
Literally translated to Ms Efy!
Ms Efy,
Likely well into her 70s…
And her two sons,
Ran one of the most awarded restaurants in all of Crete,
If not Greece,
Located in a beautiful mountainous setting…
At the back of their "noteso humble" village homes,
And surrounded by their many hectares of farming land,
Lined with olive groves…
Organic vegetables growing,
Animals grazing,
Chooks clucking…
And dogs barking as you watched the sunset,
And awaited the many local delights,
That were about to form the nights meal.
One of Ms Efy's favourite dishes,
Was her take on a Cretan favourite,
Boureki.
Basically 3 star ingredients,
Zucchini, potato and Cretan mitzithra cheese…
Crete's version of ricotta,
Cretan boureki is a simple,
Delicious…
And absolutely comforting dish,
Whether you eat it on a Greek island…
Or in the comfort of your Melbourne kitchen.
I've enjoyed many takes on this dish that many peoples will lay a claim to,
But politics aside,
This is my favourite take…
Partly because of the taste…
And even more so because of the unforgettable memories created,
When I first enjoyed Ms Efy's version.
All that's left to say is…
Kali Oreksi.
Greek for buon appettito!
– – – – – – – – – –
Ingredients
1kg zucchini sliced
1kg potatoes sliced
500g ricotta cheese
½ cup grated gruyere cheese
½ cup chopped parsley
½ cup olive oil
1 cup water
1 tbsp plain flour
Sea salt & cracked pepper
Method
Preheat the oven to 175°C.
In a large dish or bowl combine the zucchini and potatoes and season with salt. Mix together with your hands.
Add the ricotta and olive oil and mix together using your hands again to coat all the ingredients evenly.
Add the parsley and gruyere and mix together well. Sift over the flour and then mix through with your hands.
Arrange mix in a 32cm round oven dish (or rectangular of similar size). Pour over the water and cook in the oven for around 60 minutes or until the it has browned nicely on top.
Serve with a drizzle of olive oil, fresh chopped herbs and toasted sesame seeds.