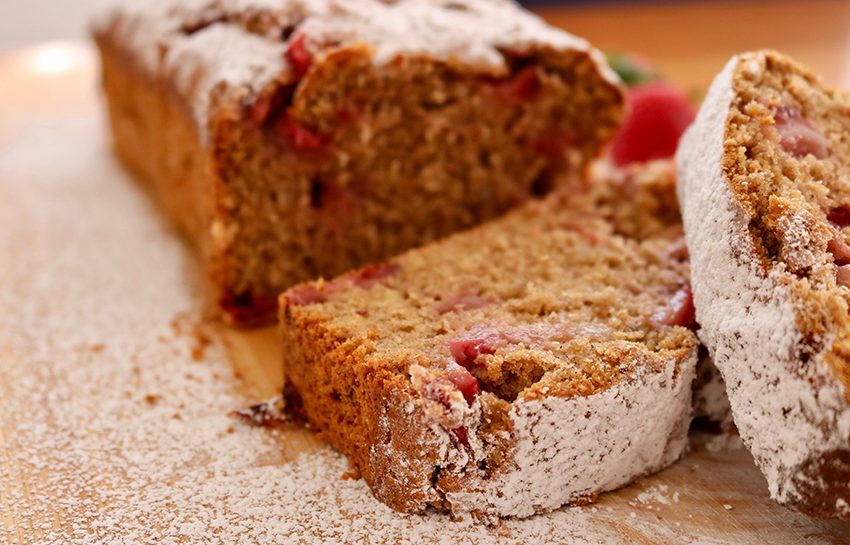 Vegan Strawberry & Banana Cake
We eat with our eyes…
Taste with our mouths…
And fill our tummies…
But before all that,
There is a smell that comes first!
After as hit of tennis with my eldest son,
A little tired,
Very sweaty..
And somewhat hungry,
The smell of the cinnamon, strawberry and banana cake,
Was the first thing that I noticed,
Before I even made it into the kitchen.
But having eaten dinner,
I put my patience to the test,
Had a shower,
Ate dinner,
And totally forgot about the cake until midmorning the following day.
When you don't eat brekkie,
And mid-morning strikes,
This could be one of the new go-to "brunches" or,
Mid-morning snacks.
Crunchy on the outside,
Moist on the inside,
With little pops of gooey,
Sweet and a little sour strawberry,
Juxtaposed against the sweet icing sugar,
And a subtle undertone of banana.
Awesome for lunch boxes,
Ideal for high tea…
And picnics would only be better by the addition of this week's recipe of the week,
Strawberry and banana cake!
Did I mention it was vegan too?
All that's left to say now is,
Buon appetito.
– – – – – – – – – –
Ingredients
1 punnet strawberries, chopped into pieces
2 ripe bananas, mashed
2 cups wholemeal plain flour
4 tsp baking powder
2 tsp cinnamon
½ cup brown sugar
1/3 cup coconut milk
¼ cup olive oil
1 tsp vanilla extract
Pinch of salt
Icing sugar for dusting
Method
Pre-heat fan forced oven to 180°C.
Grease a rectangular medium sized cake tin with olive oil.
In a bowl combine the flour, baking powder, cinnamon, brown sugar and salt and mix well to combine.
In another bowl, combine the banana, coconut milk, olive oil and vanilla extract and mix together well to combine.
Add the wet ingredients to the dry ingredients and stir with a wooden spoon until well combined.
Dust the chopped strawberries with some flour and then add them to the cake mix then fold them in evenly.
Pour the cake mix into the cake pan and bake for 40 minutes or until an inserted skewer comes out clean.
Transfer to a wire rack to cool, then serve dusted with icing sugar.