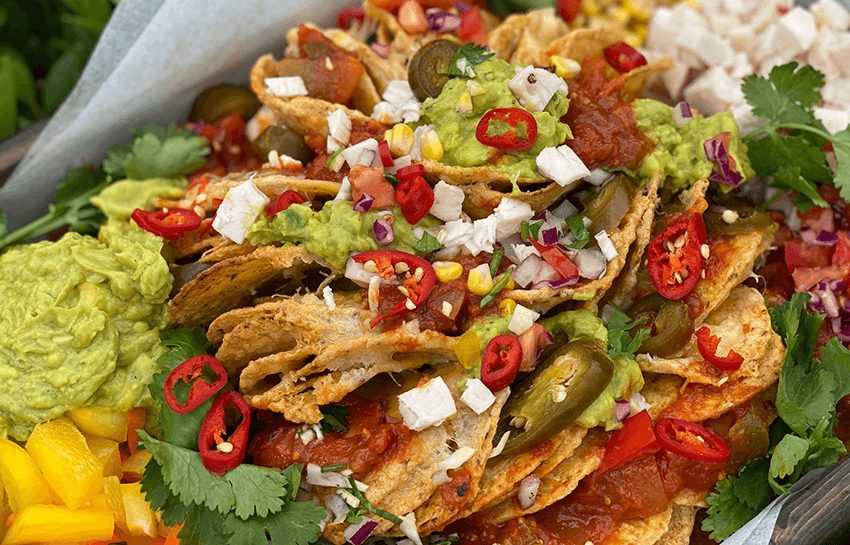 Fully Loaded Nachos
For this week's Monday Meal we're having a nacho party!
Perfect for entertaining a crowd, just throw it all in the middle of the table and let everyone build their own.
Or make one monster board and let everyone help themselves.
Ingredients
Corn Chips from Health Magic with grated tasty cheese melted over the top
Tomato Salsa (recipe below)
Onion Salsa (recipe below)
Guacamole (recipe below)
Corn on the cob, charred on the BBQ then sliced off the cob
Chicken breast from Meadow, diced
Sour Cream
Fresh coriander
Red chilli, sliced
Jalapenos by Siena
Mild salsa picante by Byron Bay Chilli Co.
Once you've made your fresh salsa, melt the cheese over your corn chips and start piling on those amazing toppings!
For the Tomato Salsa
4 tomatoes, chopped
¼ c cabbage, chopped
Small handful fresh coriander, roughly chopped
Salt
Pepper
2 tbsp Olive oil
Combine all ingredients in a bowl and mix well, season to taste
For the Onion Salsa
2 Spanish Onions, chopped
1 tbsp lime juice
¼ c cabbage, chopped
Small handful fresh coriander, roughly chopped
Salt
Pepper
Place onion and lime juice in a bow, mix well and leave to stand for 5 minutes
Add cabbage and coriander, season to taste
For the Guacamole
2 large or 3 medium avocados, mashed
1 small Spanish onion, finely diced
The juice of 2 limes
2 cloves garlic, finely chopped then mashed
1 firm red tomato, finely diced
Coriander half a bunch, roughly chopped
½ jalapeño finely chopped
Squeeze the juice of the lime over the finely diced onions and set aside. The lime juice will take sharpness away from the onions and mellow the flavour a little.
Place the mashed avocado, garlic, tomato, chilli, and coriander in a bowl. Add the onions and combine with a spoon. Season with salt and adjust to your liking.