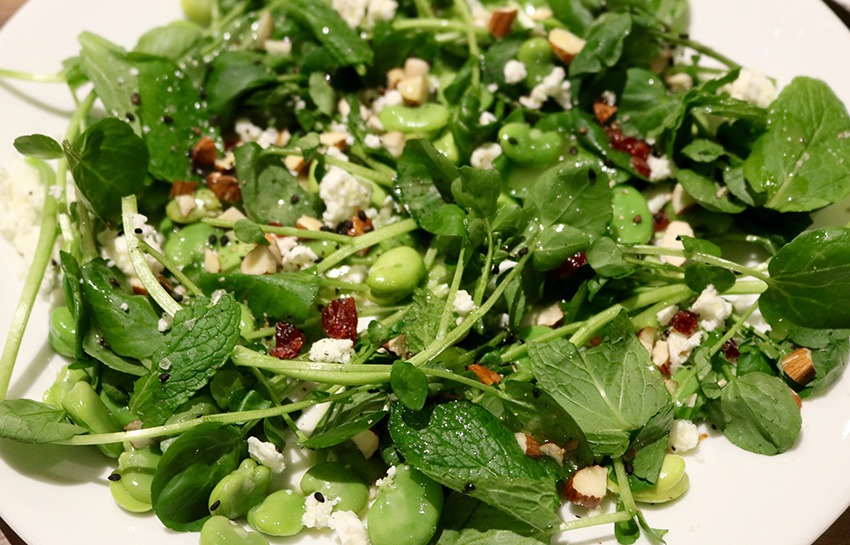 Broad Beans, Feta & More Greens
Before this week…
I never really thought of cooking with broad beans.
Maybe because they looked like hard work…
Possibly because I didn't know what to do with them…
But most likely because our youngest son is allergic to them.
This week however…
Being Joe's pick of the week…
I had no other choice, but to give peak season Spring broad beans a go!
I must say that I absolutely loved them!
Combined with fresh watercress & mint,
Broad beans made for a great protein alternative to meat or poultry.
Feta and olive oil are also this Mediterranean beans' best friend.
This was a really simple dish…
With very little cooking time,
Or just 2 minutes to be precise!
That's actually the time it takes to blanch the shelled beans in boiling water,
Before throwing them into an ice bath…
And shelling them for a second time!
Why shell twice?
For those that don't know or haven't cooked with them before…
Broad beans are double-pod beans,
So for dishes like salads, it's best to get the skin off the bean for ease of digestion and for a nicer taste!
Putting the salad together is the easy part…
I didn't get too precious in how I arranged my plates…
It just sort of worked.
And although I'm usually quite liberal with olive oil…
I suggest to stick to 2-3 tablespoons (per serve) of the olive oil & lemon dressing per plate…
As the cress leaves are gentle and too much oil will make the leaves heavy…
You want a fresh, light & zingy dish!
Lots of fresh herbs…
Plenty of crushed nuts…
And a spot of cranberry, although currants or sultanas would be just fine if that's what you have.
We served this with some crusty bread…
And it was just fine in terms of portion size,
But if you're a big eater,
Or have a large appetite,
You could just as easily serve it up as a side, entrée…
Or as part of a larger spread!
That's all for now.
All that's left to say is…
Buon appetito!
– – – – – – – – – –
Ingredients
400g shelled cooked broad beans
½ bunch watercress
1 cup mint leaves
1 tbsp cranberries finely chopped
2 tbsp almonds chopped
1 tsp black sesame
50g feta
½ cup olive oil
1 lemon juiced
½ tsp sea salt
Method
Remove broad beans from the pods.
Blanch broad beans in boiling water for 2 minutes then strain and put in an ice bath to stop the cooking process.
Remove from the ice bath once cooled and peel outer skin from the bean.
In a jar, add the oil, lemon juice and salt, put on the lid and shake to combine.
Equally arrange the watercress, broad beans, mint leaves, feta, cranberries, almonds and sesame on four plates, drizzle each with the dressing and serve. Season with salt and pepper if required.