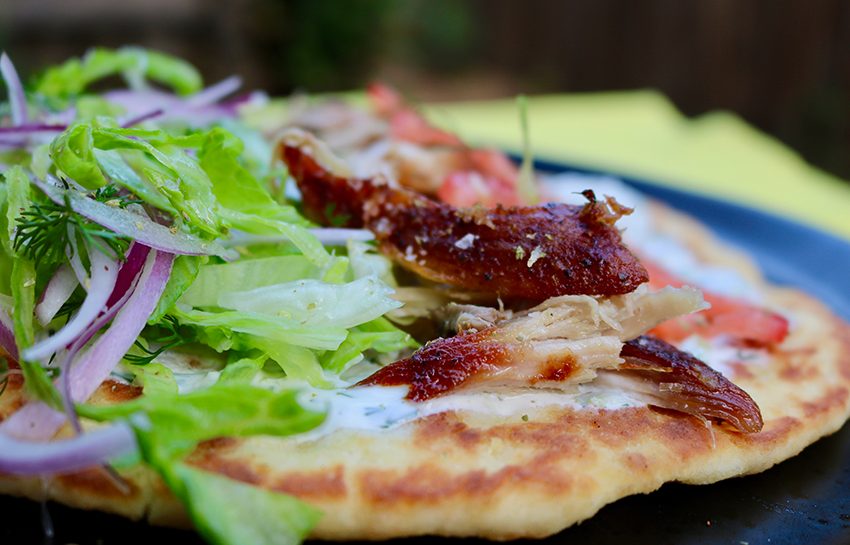 Pork Souvlaki
Growing up in the 80s…
I only seem to remember one type of leafy salad.
It wasn't rocket,
Wild or regular…
Not spinach leaves,
Or mescaline…
And it definitely was NOT watercress.
In my world,
All lettuce,
No matter what day of the week,
What lunch or dinner we were eating,
Whether it was as a side salad,
In a burger,
Or in a sandwich…
Was iceberg lettuce.
That's it.
No variety.
If we weren't eating iceberg,
We were eating cucumbers and tomatoes.
Then the 90s came along,
And it seemed like the world changed!
I'm not talking changed like goodbye to Duran Duran,
Cindy Lauper…
Or even shoulder pads for that matter!
I'm talking goodbye iceberg.
It just seemed to disappear.
Not sure where too…
Fish n Chips shops seemed to have plenty of it…
But cafes,
Restaurants,
And our family, friends and acquaintances,
All seemed to say goodbye to this old school favourite.
It was at least 2,
Possibly 3 decades in the abyss,
And then something happened.
After being forgotten,
Sent to the sidelines,
In favour of more couture lettuce,
Somewhere between 2010 & 2020,
Iceberg started to make a comeback.
Capers started appearing alongside it…
Feta cheese…
It even became a favourite in all things fusion…
Like san choi bao…
Being icebergs best friend.
One place that iceberg belongs more than any other…
Other than your favourite fish n chips shop that is…
Is in a Greek favourite,
An adopted Aussie hero…
The souvlaki.
Garlic sauce,
A little bit of tomato and onion,
Fluffy on the inside,
Crunchy on the outside pita,
Salt, pepper, oregano,
And a bit of lemon,
Complete this classic.
And I love a little chill sauce,
Siracha to be precise,
But I'll leave that up to you.
And for the meat,
Slow roast pork is what we did today,
But it could just as easily be lamb backstraps,
Chicken tenders,
Or even haloumi and mushroom!
Homemade souvlaki are simple,
Delicious and a family favourite.
I hope you enjoy them as much as we did.
All that's left to say now is..
Kali oreksi,
Greek,
For Buon appetito!
– – – – – – – – – –
Ingredients for the pork
1.4kg pork leg, off the bone
5 cloves of garlic cut into 4
Olive oil
Sea salt, cracked pepper & oregano
Ingredients for the pita
3 ¾ cups self-raising flour, extra for dusting
3 cups full fat Greek yogurt
1 tbsp olive oil
Pinch of salt
Ingredients for the tzatziki
1 cup full fat Greek yogurt
1 small Lebanese cucumber grated
2 garlic cloves crushed
¼ cup dill chopped
Juice of ½ a lemon
1 tbsp olive oil
Sea salt
Ingredients for the souvlaki
1 red onion sliced
2 truss tomatoes sliced
1 iceberg lettuce chopped finely
1 Lemon
Method for the pork
Pre-heat your oven to 160°C.
Put the pork in an oven dish and coat well with olive oil. Season with salt, pepper and oregano. Make incisions in the pork and push through the garlic pieces. Roast for 2-2.5 hours, turning it over halfway to colour both sides.
Method for the pita
In a large bowl, add the flour, yogurt, olive oil and salt and work into a dough. It will be soft and fluffy. Set the dough aside until it is time to roll divide and out.
Method for the tzatziki
Squeeze out the excess liquid from the cucumber and add it to a bowl with the yogurt, garlic, dill, lemon juice, olive oil and season well with salt. Stir using a spoon until all the ingredients are combined nicely.
Rolling out and cooking the pita
Cover your surface well with flour. Divide the dough into 6 pieces. Roll each piece into a circle. They will be very soft and delicate so you will need the flour to keep them from sticking.
Heat some oil in a pan over medium heat. Gently place the pita in the pan and cook until nicely browned, then flip with a spatula and cook the other side until browned. Continue until all pita's are cooked.
Assemble the souvlaki
Pull the pork with two forks into small pieces.
Put the pita on a plate, over some baking paper, and spread with the tzatziki. Add the pulled pork, red onion, tomato, iceberg lettuce and squeeze some lemon juice over the top. Season with salt, pepper and oregano and then wrap up in the baking paper. Enjoy!