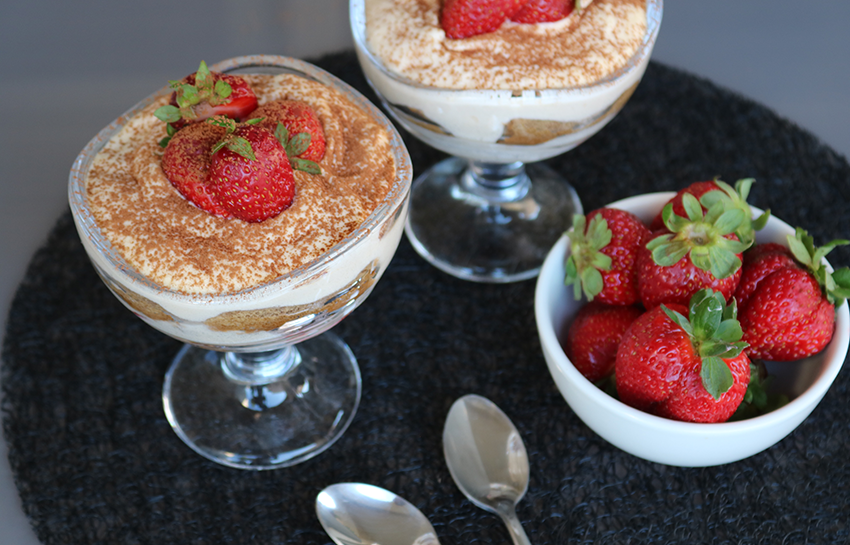 Virgin Strawberry Tiramisu
As I was sipping on my espresso earlier this week, I started to imagine a marriage of coffee & strawberries…
What else would you think of whilst you're having a coffee and needing to come up with a recipe featuring strawbs?
At first I dreamed of Tiramisu… a classic Italian desert famous for its delectable combination of Mascarpone, cream, coffee & liqueur.
Then I toyed with the idea of strawberries in the tiramisu. My first attempt at the flavour combo was juicing strawberries and adding them to my coffee to see if the flavours would work. Big flop!
But I was adamant the combo would work. Strawberries and cream work. Coffee and cream work. So surely strawberries, coffee and cream, could work??
I persisted… and they did!
Our version of strawberry tiramisu is light, creamy, has a big burst of full coffee flavour and is not too sweet with bursts of fresh strawberries balancing out the desert perfectly. No alcohol in this, as we wanted it to be kid friendly, but who's to say you couldn't add a little Marsala wine, dark rum, Madeira, port Tia Maria or any of your favourite liqueurs!
Please note: Good things do take time and this desert is no different. The longer you leave it to set in the fridge, the softer the ladyfingers become and the more the flavours fuse into what I think is as good a tiramisu as you're gonna get!
Buon appetito!
Ingredients
500g Mascarpone
6 eggs, separated
¼ cup of sugar
22 ladyfingers
1 ½ cup espresso coffee
3 punnets of strawberries, 2 punnets hulled & chopped, 1 punnet halved for garnish
1 tsp cocoa powder
Method
Beat egg yolks and sugar together until nice and creamy. Add the Mascarpone and beat until it is mixed well.
In a separate mixing bowl beat the egg whites until they form soft peaks.
Fold the egg whites into the Mascarpone mixture.
In a bowl combine the espresso coffee with the cocoa and mix.
It is now time to start putting the dessert together in six glass dessert bowls.
Quickly dip the ladyfingers in the coffee mixture and arrange a layer at the bottom of each dessert bowl.
Spoon in a layer of Mascarpone mixture then add a layer of strawberries. Repeat with another layer of ladyfingers and the remaining Mascarpone.
Put the bowls in the fridge and chill for around 4-5 hours.
Garnish with strawberries and dust with cocoa before serving.