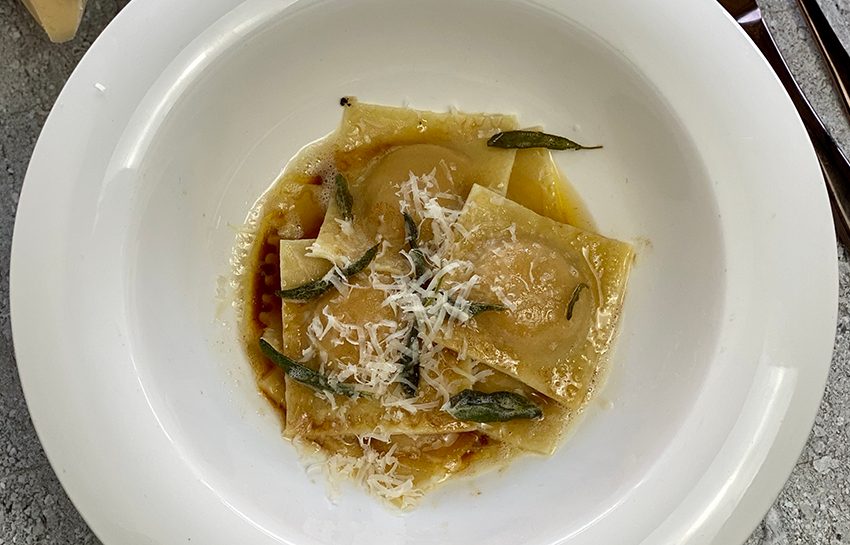 Pumpkin Ravioli with Sage Nut Butter
I love this little pasta cheat!
You can freeze the pumpkin puree and throw this dish together in about 15 mins!
– – – – – – – – – –
Serves 4-5
Ingredients
500g Jap Pumpkin, peeled & cut into chunks
1 head garlic
Olive Oil
Salt & Pepper
1 pack Otway Lasagne Sheets
150g butter
¼ bunch sage leaves
Method
Preheat oven to 180°C
Place pumpkin, half the sage and garlic on an oven tray and coat with olive oil, salt and pepper. Roast for about 40 mins or until soft.
Place cooked pumpkin and half of the garlic in a food processor and blitz, taste and adjust seasoning if needed.
Leave the lasagne sheets out of the fridge until they start to soften and use a ravioli tray or a ravioli cutter to create the ravioli as per instructions.
If you have a hand-held cutter lay a sheet of lasagne on the bench, dollop enough pumpkin puree to fill your cutter size, place another sheet on top and use the cutter to cut out the ravioli.
Cook in salted boiling water until al dente
Meanwhile, place butter and sage in a small frypan and cook until the butter starts to brown. Keep an eye on it, it will burn quickly, swirl the pan as it cooks.
Top the pumpkin ravioli with the nut butter and sage.
Note: You can create free-form lasagne style pumpkin pasta if ravioli isn't your thing.
Slice the pasta into about 6 cm strips, cook them in boiling salted water until al dente then start layering! Place the end of the pasta strip in a bowl and dollop on some pumpkin puree, fold the pasta sheet back over it self and add more pumpkin. Repeat until you have a serving size you are happy with then drizzle over nut butter.