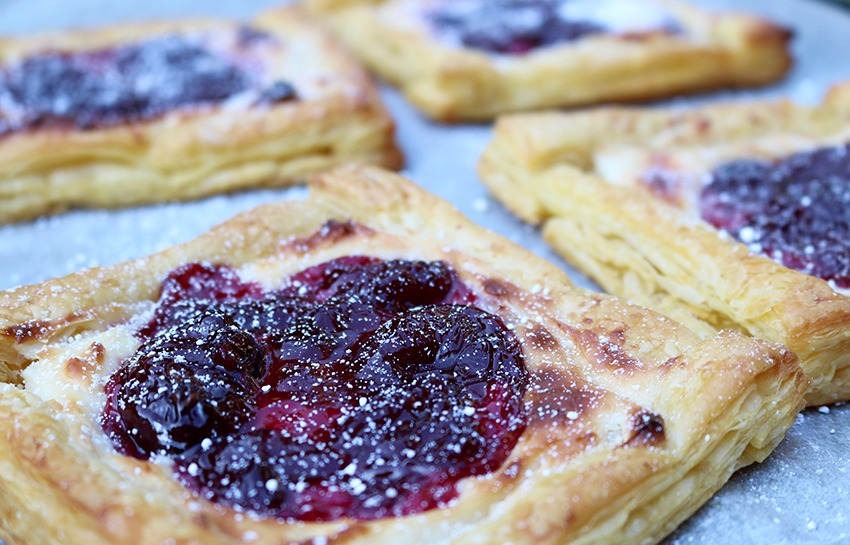 Cherry Cream Cheese Danishes
Note of apology:
Part of last week's recipe was missing some instructions. This has since been corrected.
– – – – – – – – – –
I loved it when mum would pick me up from school.
It was usually on a Friday…
And there were different stops along the way.
Sometimes it would be the bank…
Other times the fruit shop,
Quite often the supermarket…
And occasionally a stop at the butchers'.
There was one other stop we'd make,
The one I looked forward to the most …
The one where my fondest memories were formed…
And that was the bakery!
Perched high on the hill on Belmore Road,
Not too far from the Balwyn Swimming Pools,
For those familiar with that neck of the woods,
The Belmore Baker's was like flour & butter heaven for me!
Frosted finger buns…
Coffee Scrolls…
Almond Croissants…
I loved them all!
But the one pastry,
That kept me coming back for more and more,
Was the Danish!
Blueberry Danishes…
And apple Danishes!
I just loved them both.
And I wasn't too fussed which one I'd get…
Because to me…
They were both as equally delicious as the other.
So with Victorian summer cherries Joe's pick of the week…
I thought I'd pay tribute to my childhood pastry memories,
By creating my take on the old apple Danish.
Cherries features in our version…
Simply reduced with some sugar and vanilla extract.
Rather than custard,
I've gone for a simple cream cheese…
Whipped with some sugar and vanilla extract.
Puff pastry provides for a quick cheat to hand made pastry…
But boy o boy what a joy!
Light, flaky, buttery…
Combining gorgeously with the cheese & cherry topping,
To make for one amazing Christmas dessert.
Cherry Cream Cheese Danishes will make you the talk of the festive season.
All that's left to say now is…
Buon appetito and…
Buon natale!
Italian for Merry Xmas!
– – – – – – – – – –
Ingredients for the Cherry Filling
600g fresh cherries pitted
¾ cup raw caster sugar
½ cup water
1 tbsp corn flour
1 tbsp cold water
1 tsp vanilla extract
Ingredients for the Cream Cheese Filling
250g cream cheese (room temperature)
1 tsp vanilla extract
¼ cup raw caster sugar
3 sheets puff pastry
& some icing sugar for garnish
Method for the Cherry Filling
In a large pot heat the cherries on a medium high heat until they start to release their juice.
Add the ½ cup water and simmer for 15 minutes.
Add the sugar and continue to simmer for 10 minutes.
Add the vanilla extract and stir to combine.
In a cup combine the corn flour and 1 tbsp cold water and stir to combine. Add the corn flour mixture to the cherries and turn up the heat to medium and heat stirring continuously for 3 minutes or until the mixture has thickened nicely.
Remove from the heat and allow to cool.
Method for the Cream Cheese Filling
In a bowl, add the cream cheese, sugar and vanilla extract and stir to combine well.
Method to Assemble the Tart
Pre-heat oven to 220°C and line a baking tray with baking paper.
Cut two of the puff pastry sheets evenly into four, square pieces, making eight pieces. Cut the remaining puff pastry sheet into 32 strips. Place one strip on each side of the square pastry pieces to form a border around the square.
Make some fork incisions in the middle of each square.
Spoon 1 ½ tbsp cream cheese filling into the middle of each piece of pastry, then 4-6 cherries & filling on the cream cheese on every piece.
Put tarts on the lined baking tray and bake for 20 minutes or until nicely golden.
Remove from oven and allow to cool. Sprinkle with icing sugar and serve.