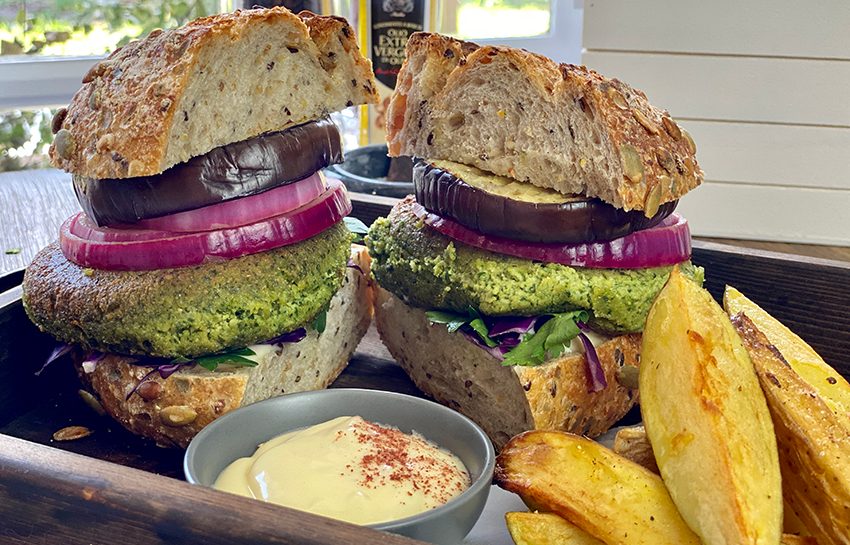 Falafels Burgers
This is best falafel recipe we have ever tried!
Make sure you fry a few small ones up for dipping in your favourite tahini or dipping sauce too!
It's a classic recipe from an amazing Israeli cook!
She will not like us saying this, but if you don't want to use dried chickpeas, make sure you rinse them well!
– – – – – – – – – –
Ingredients for the Falafels
600 gram dried chickpeas
1/2 – 1 cups of raw tahini paste
1 parsley bunch
1 coriander bunch
1 onion
5-6 garlic pods
Green hot pepper (optional)
1 tablespoons grounded coriander
2 tablespoons grounded cumin
1.5 tablespoons salt
1 tsp bicarbonate soda
For the garnish and assembly
Rolls of choice, sliced in half
Flat parsley leaves
Eggplant, sliced into 1 cm circles and fried in olive oil
4 cm piece red cabbage, finely sliced
Spanish onion, sliced
Sherry vinegar
4 juniper berries
Method
Soak chickpeas in lots of water for 1-2 days. Rinse well.
Blend all ingredients. Add some of the soaked chickpea water if not smooth enough.
Form into veggie burger sizes that suit your rolls.
Fry in very hot oil.
Place onion, sherry vinegar and juniper berry in a bowl and allow to sit for 30 mins.
Now it's time to build/assemble it!
Pile all of the ingredients onto the bottom half of your roll, replace the top and enjoy!