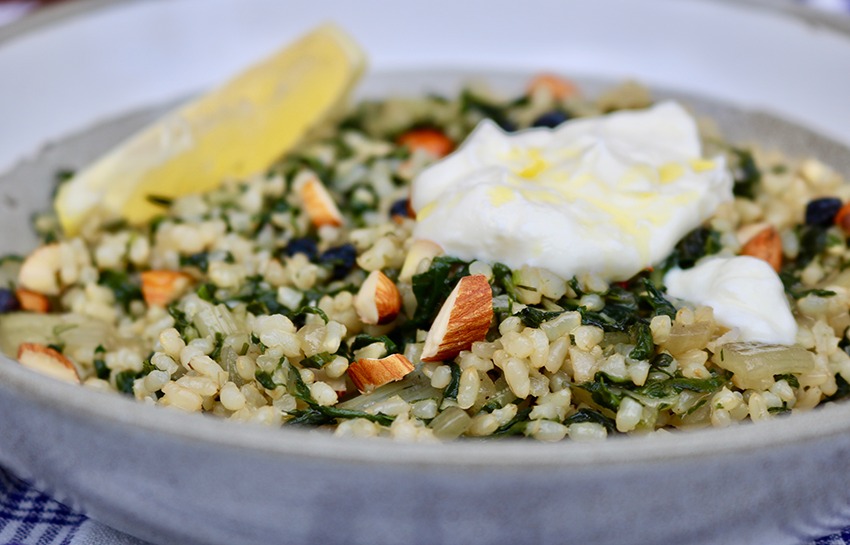 Silverbeet and Rice
Growing up as a kid…
I loved listening for hours on end…
To my giagia's (aka gran's) stories about the homeland!
She moved to Australia from Greece,
When she was in her mid 40s…
And I hadn't turned one yet!
That was 1976!
For many,
Many years to come…
And all the way until 2019…
Giagia would share stories…
Stories about the village,
Stories about school…
And stories about the war!
Some stories,
Maybe the same one told 10 different ways…
Featured her war "work" as a resistant fighter in her own right…
Including hiding men and women from German soldiers…
Whether they were local young soldiers…
Fighting the biggest battle of their lives…
Or Jewish families,
Men, women & children…
Who had fled cities like Salonika,
In hope of avoiding a terrible fate!
Giagia would go on and on about how difficult it was,
Not only to be a war mum…
But also the challenge of raising 4 boys of her own,
Whilst managing the home affairs…
While her husband,
My granddad,
Aka pappou,
Travelled much of Northern Greece,
As a meat merchant and trader.
One saying that I didn't really get…
And that even annoyed me,
For much of my privileged upbringing…
Was when giagia would say…
"Like it was in '41!"
Giagia was referring to the hunger that had hit Greeks,
And much of Europe,
In the middle of war time…
In 1941!
In modern day Australia,
There are many of us…
That have NO idea what it would be like,
To go without a meal…
Like my gran and her boys,
Back in '41!
Now,
In the middle of peace time here in Australia,
And across the world,
We are all faced with an overwhelming uncertainty…
That has led many of us,
Me for sure…
To question what it would have been like,
In less fortunate times,
Like in 1941 war torn Europe!
Toady in Australia,
Even in crazy times like this…
The abundance in food supply,
And the tremendous safety net in our government system,
Means that even in this moment of crisis…
All of us should still be able to access food,
Even if we may have to substitute silver beet,
For English spinach,
Like I have this week!
This week's recipe…
Silverbeet & brown rice…
Is a tribute to my gran,
And her "Like it was in '41" saying.
The dish is a hearty combination…
Of brown rice…
Fresh herbs…
Dill & parsley in this case…
Sautéed silver beet,
And fried onion & garlic.
The dish is a perfect example…
Of what may have been called peasant food in years gone by…
But is actually one of the simplest,
Healthiest…
And satisfying dishes,
You might decide to plate up…
At times where health,
And making your dollar go further…
Are back to the top of the priority list.
When the going gets tough…
As it has right now for many…
It's time to get back to basics.
Eat well…
Cook to make the dollar stretch a little further…
And cook for health,
As we begin or have now realised,
There is nothing more important than your health!
Buon appetito
– – – – – – – – – –
Ingredients
1 bunch silverbeet, stalks separated, leaves chopped fine &
Sliverbeet stalks chopped into pieces
1 medium brown onion diced
2 garlic cloves chopped finely
½ cup dill chopped
½ cup parsley chopped finely
1 lemon
1 cup vegetable stock
4 cups cooked brown rice
4 tbsp olive oil
Chopped almonds, raisins and herbs to garnish
Sea salt
Cracked pepper
Method
In a large pan (or something with a lid) heat the olive oil on a medium-high heat and sauté the onion until translucent. You don't want the onion to brown.
Add the garlic and when you can smell the garlic, about 1 min in, add the silverbeet.
Cook the silverbeet, stirring until they wilt.
Once they have wilted, add the rice and the stock.
Reduce to a low simmer, add the herbs and season with salt and pepper.
Cover the pan and simmer until the stock has been almost completely absorbed by the rice.
Serve with a drizzle of olive oil, squeeze of lemon, almonds, raisins, more fresh herbs and a dollop of Greek yogurt.