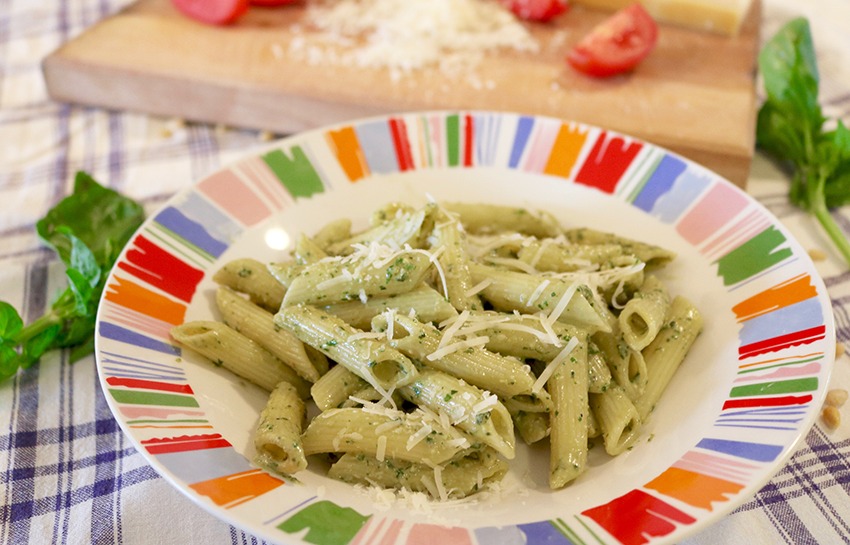 Carluccio Basil Pesto Penne
Two Greedy Italians has to be one of my all time favourite cooking shows!
For those that may not know it…
It was hosted by Antonio Carluccio & Gennaro Contaldo…
A couple of cool old Italian blokes, who were also famous London restauranters!
These two guys shared recipes with their audience (including me) as they travelled across the Italian countryside…
Delivering their Italian foodie message in awesome thick Italian/English accents.
Always simple meals, cooked using the freshest and best ingredients…
Lots of olive oil and a big glass of vino (wine) to accompany what was always a superb meal!
Unfortunately Antonio (my personal fave) passed away around a year ago…
But his legacy lives on in both current foodie culture and cooking show folklore.
This week's recipe is inspired by some of Antonio's favourite ingredients…
Basil, garlic, olive oil & pasta!
And his idea that meals can be delicious & full of flavour without being expensive or difficult to make.
Basil Pesto Pasta is the dish.
The recipe is simple as are the ingredients but I should say that…
You MUST use excellent olive oil…
Pungent and fragrant basil…
Superb sea or river salt &…
Excellent quality reggiano and of course
Top quality pasta!
Serve it hot with plenty of extra grated parma on the side!
And because of the saltiness of the dish…
I've served it up with a side salad of tomato, buffalo mozzarella & basil.
The balsamic dressing gives some sweetness to balance the saltiness of the pesto and…
The fresh basil & the creamy mozzarella also work to balance out the richness of the dish!
RIP Antonio Carluccio
Salute & Buon Appetito
– – – – – – – – – –
Serves 4-5
Ingredients
500g penne pasta
3 cups of basil, stems removed (around 2 bunches)
4 garlic cloves minced
½ cup pine nuts lightly toasted
2/3 cup Reggiano Parmesan
2/3 cup olive oil
Sea salt
Cracked pepper
Method
Add the basil and the pine nuts into your food processor and pulse until mixed.
Add in the garlic and Reggiano and pulse again until combined.
Start adding the olive oil a bit at a time and keep pulsing until you get a well -combined smooth mixture.
Stir in sea salt & cracked pepper to taste and set aside.
Cook pasta in a large pot until al dente. Reserve 1 ½ cups of the pasta water and then strain the pasta and set aside.
In a large pot, heat 5 very heaped tablespoons of pesto just for a minute and then add the pasta and give it a good mix.
Add 1 cup of the pasta water and stir again. You may need to add another ½ a cup depending on how the mixture looks. It should become a sauce so not too dry.
Remove from the heat give another stir to make sure all the pasta is covered in the sauce.
Serve garnished with a little extra grated Reggiano.
Any extra pesto can be stored in an airtight container in the fridge for around 5 days.