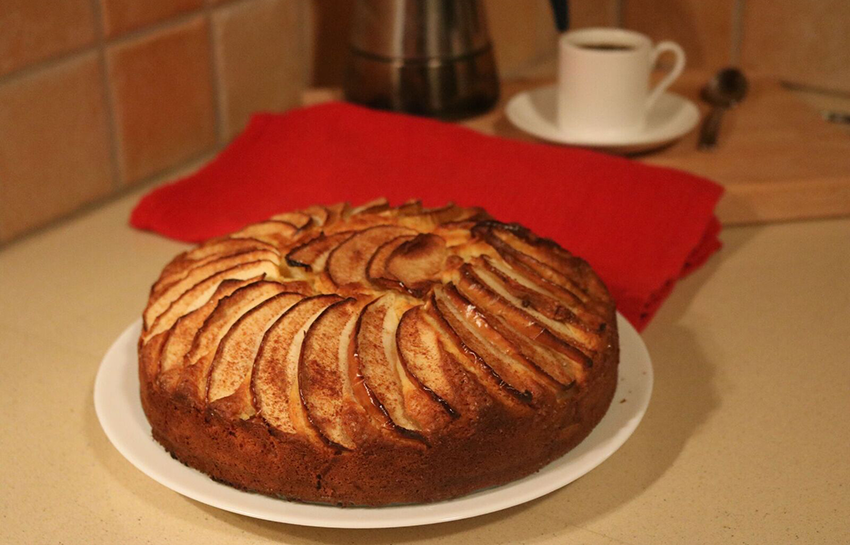 Italian Style Apple Cake
Ingredients
3 pink lady apples
1 lemon, zest & juice
2 eggs
100g softened unsalted butter (extra for greasing)
250g plain flour
¾ cup fine brown sugar (extra for sprinkling)
2 tsp baking powder
1 teaspoon vanilla powder
80g Greek style yogurt
Pinch of salt
1 tsp cinnamon
Method
Pre-heat oven to 200°C.
Grease a medium sized cake tin with butter.
Peel and core one of the apples and cut into cubes. Cover with the lemon juice to stop them from browning and set aside.
In a bowl, combine the flour, baking powder, vanilla and lemon zest. Set aside.
In another bowl, beat the butter and sugar with an electric mixer until nice and fluffy. Add the eggs and beat until well combined.
Add the yogurt and the flour mixture to the wet ingredients and mix together with a wooden spoon until well combined. Transfer the cake mixture to the cake tin.
Cut and core the remaining apples and cut into thin slices. Arrange the slices over the top of the cake in a circular pattern.
Sprinkle with cinnamon and some brown sugar, and then bake in the oven for 40-45 minutes.
Enjoy with a lovely cup of freshly brewed tea or coffee.
Buon Appetito!!