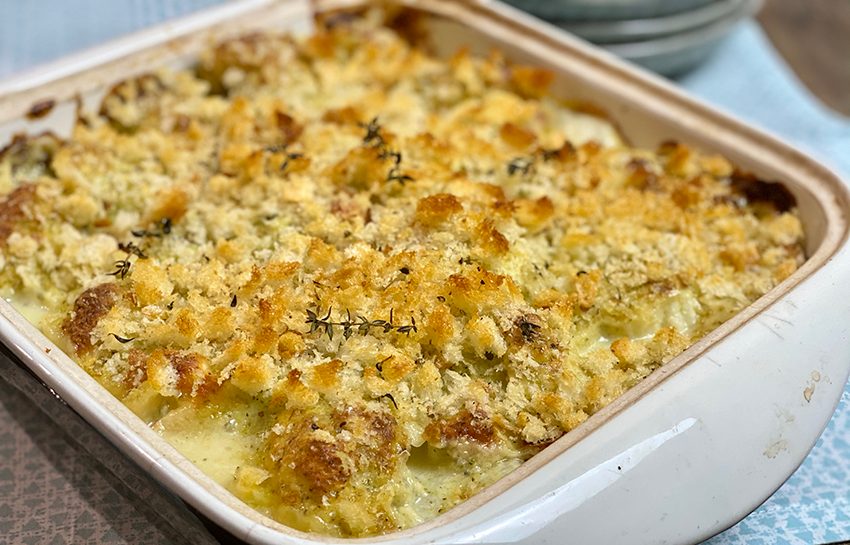 Cauliflower & Cheese
Our cauliflower and cheese has a little twist inspired by the good ol' chicken and broccoli Kiev.
We've used mozzarella and Parmesan for an Italian style bake, but you can use aged cheddar (delish) or even tasty cheese. Go with what you know your family and friends will love!
You can also add a couple of hundred grams of macaroni or a similar pasta to create a full meal.
– – – – – – – – – –
Serves 6-8 as a side
Ingredients
60 g butter
3 cloves garlic, crushed
60g plain flour
Pinch salt
700ml milk
2 heads fresh broccoli, stems finely chopped, florets broken up
90g mozzarella cheese, grated
30g Parmesan cheese, grated
1 whole cauliflower, broken into florets
1 handful good quality breadcrumbs
A drizzle olive oil
4 springs fresh thyme
Method
Preheat oven to 180°
To create the cheese sauce, place butter and garlic in a saucepan and melt over low heat.
Add a good pinch of salt and the flour and stirring continuously, beat the flour into the butter.
Once combined slowly add the milk whisking as you go.
Add the broccoli and cook until the broccoli is soft. If the sauce is too thick add a little more milk a bit at a time.
Add the cheeses and a big pinch of salt and pepper and blitz it all together. Add a little more milk if needed. Check seasoning and adjust if needed.
Place the cauliflower in a baking dish, pour over the sauce and scatter over breadcrumbs.
Drizzle with olive oil, scatter over thyme and bake for 45 to 50 mins or until the cauliflower is tender.