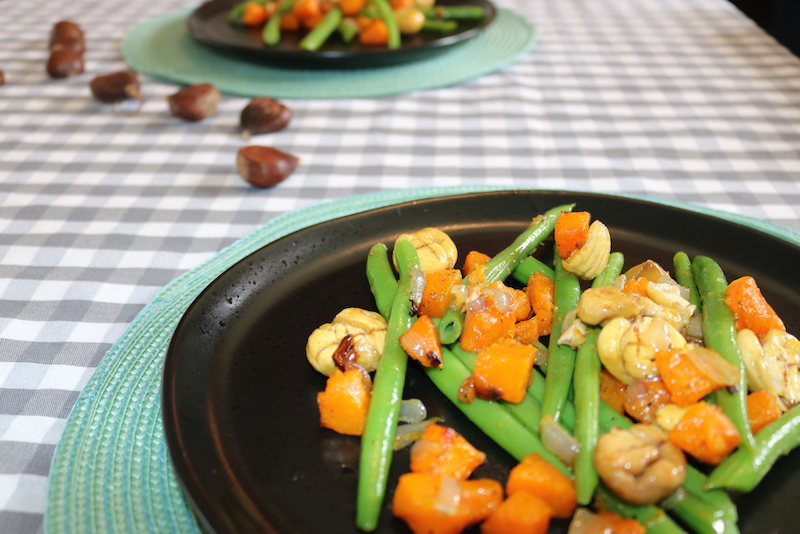 Roast Chestnuts & Pumpkin With Green Bean
Serves 3-4
INGREDIENTS
400 grams Chestnuts, Roasted & Peeled
550 grams Pumpkin Cut Into Bite Size Pieces
300 grams Green Beans, Blanched For 3 Minutes & Refreshed
2 Medium Red Onions Chopped Into Cubes
Olive Oil
Salt, Pepper, Paprika
METHOD
Pre-Heat Fan-Forced Oven To 180'C.
In a medium baking dish, season Pumpkin & Onion with Salt, Pepper, Paprika & Olive Oil. Toss so everything is seasoned evenly and put the dish in the oven to cook for around 35-40 minutes.
While the pumpkin is cooking, score the chestnuts with an "x" and place scored side up on a baking tray. Put chestnuts into the oven for around 15 minutes or until opened.
Remove chestnuts from oven. Peel & set aside. (See instructional video posted on Facebook tomorrow for more tips on how to prepare chestnuts).
To blanch the beans, bring a large pot of salted water to the boil. Add the beans to the boiling water for 2-3 minutes. Remove and put into an ice bath to refresh. Set aside for later use.
After around 35-40minutes, the pumpkin should be cooked. Remove the baking dish from the oven. Add the chestnuts & green beans.
Gently toss through so the beans & chestnuts are covered in the pumpkin & onion mixture.
Season to taste. Serve.