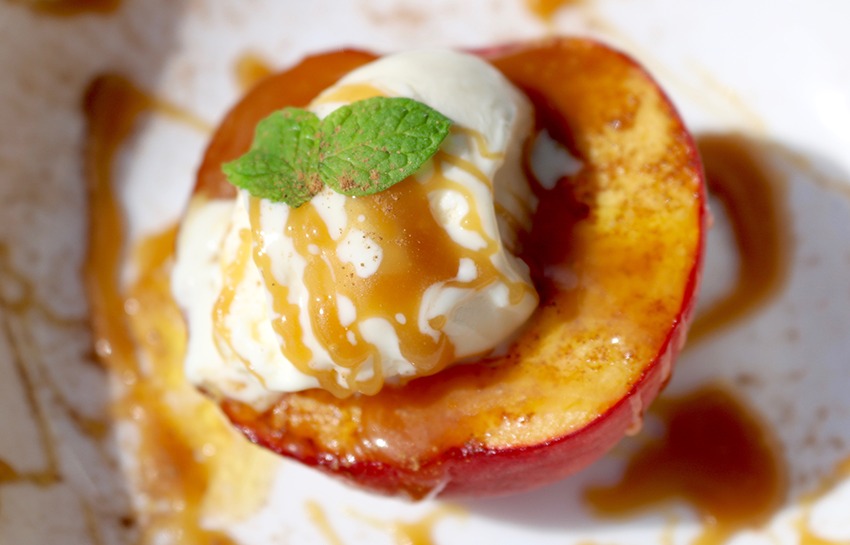 Baked Peaches with Honey Caramel Sauce
Did you eat much peach as a kid?
I must confess…
At a very early age,
I was more of a "peach in a can" type of kid than a fresh peach lover!
What…
You never ate peach in a can?
C'mon,
We all ate some canned peach at some stage of our childhoods!
Maybe it was the sugar syrup which they were drowned in…
Maybe it was the convenience…
Nonetheless,
Much like my Coco Pops & Rice Bubble addictions of years gone by…
I've long given up the canned peach.
And now opt instead for beautiful, fresh, summer Aussie peach!
I must confess though…
This week's recipe of the week…
Does bring back memories of my "peach in a can" childhood!
But in a much more sophisticated and delectable manner of course!
Roasting peaches brings out their natural sugars…
And if you've added a little good butter & raw sugar to them…
Kinda like we suggest in the recipe…
You really do get a gorgeous caramelization happening after only 15 or so minutes in your nice hot oven!
And the natural sugars of the peach seem to morph as the cooking takes place,
Turning our tart peach into an ultra simple, sweet & delicious desert.
But it needs something else to be a complete desert!
Extra cold, creamy vanilla ice-cream is the roasted peaches' best friend.
And just to take you back to your childhood one more time…
Our salted caramel sauce does will give you flash backs to McDonalds caramel sauce!
Only better of course!
And probably 3 times more expensive than the Macca's version! (worth every penny)
Putting it together can be trickier than the recipe suggests.
Main reason being how quickly the ice-cream will melt when topped when it sits atop the hot roasted peach!
My suggestion would be taking the peaches to the dining table and…
Scooping out the ice-cream just as your guests are gonna dig in.
Confession!
Our first attempts were more like peach in cream broth because…
Our ice-cream had melted by the time we served the desert up to the fam!
Well,
You know better now…
And with plenty of delicious peach available as we get deeper into summer,
We are sure that you too will get to enjoy memories of years gone by as you enjoy this simple, yet ever so special, summer desert!
Buon appetito!
– – – – – – – – – –
Serves 8
Ingredients for the Honey Caramel Sauce
2 tbsp honey
50g salted butter
¼ brown sugar
2 tbsp milk
Ingredients for the Baked Peaches
4 large yellow peaches
2 tsp brown sugar
1 flat tsp cinnamon
2 tbsp butter
Vanilla ice cream
Mint leaves for garnish
Cinnamon for garnish
Method for the Honey Caramel Sauce
In a small pan gently heat the honey, butter, sugar & milk, stirring constantly until you start to see bubbles.
Set aside and allow to cool before serving.
Method for the Baked Peaches
Pre-heat oven to 220°C.
Cut peaches in half & remove the pip then put them in an oven dish.
Put ¼ tsp butter into the middle of each peach half, where the pip used to be.
Mix the 2 tsp brown sugar & 1 flat tsp cinnamon together in a small bowl to make cinnamon sugar.
Sprinkle the peaches with the cinnamon sugar then bake them in the oven for 10-15 minutes or until they are tender.
To serve, scoop one small ball of vanilla ice-cream in the middle of each peach, drizzle with some honey caramel sauce, garnish with mint & cinnamon then serve.