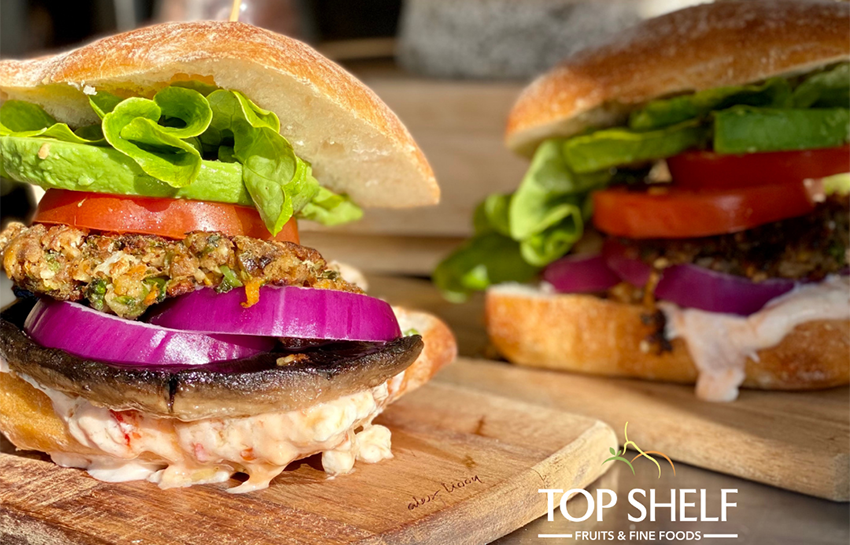 Veggie and Lentil Burgers
When it comes to a veggie burger, we want a patty that holds together, but isn't stodgy or a pureed mess.
We like a little texture. It should crumble slight when you bite into it.
You can leave out any veggies you don't like.
If you aren't a fan of lentils, swap them out for some burghal soaked in the juice of a tomato or 1 cup cooked rice.
– – – – – – – – – –
Makes 12 medium sized patties
Veggie Patty Ingredients
2 potatoes, peeled, boiled and mashed
1 can lentils, washed and well drained
¼ small cauliflower, florets small diced, stems finely diced
½ bunch broccolini, stems finely diced, florets small dice
1 zucchini, grated
1 red capsicum, flesh grated
4 spring onions, finely sliced
1 medium carrot, grated
Handful parsley, chopped
Handful baby spinach, chopped
Dozen green beans, finely sliced
4 cloves garlic, crushed
2 tsp sumac
1 ½ tsp salt
1 ½ tsp pepper
3 tbsp caramelised onions
1 tbsp Dijon mustard
3 eggs, lightly beaten
½ c good quality bread crumbs
1 tbsp dukkah
To Finish
Bread rolls, we've used Turkish rolls sliced in half
Lettuce
Tomato, sliced
Spanish onion, sliced
Large flat mushrooms, grilled on the BBQ
Caramelised onions
Aioli
Method
Combine all patty ingredients in a bowl and mix to combine.
If the mixture feels really wet, you can drain it by enclosing it in a clean tea towel or calico cloth, and then gently squeeze out the liquid.
Form into 12 patties. Place in a container separated by baking paper and refrigerate for at least 3 to 4 hours or overnight.
Toast buns on the BBQ or grill pan over medium heat.
Fry the patties in a non-stick pan until golden brown and cooked through.
Smear the bottom of the bins with aioli and caramelised onion, add the veggie burger and salad ingredients, and pop the top back on.