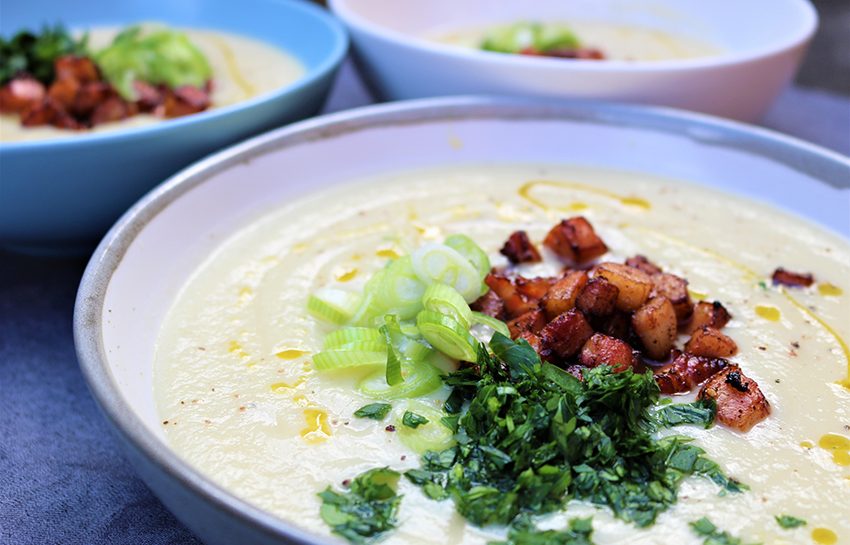 Simple Cauliflower & Leek Soup
Last Monday was cold!
And I was about to embark…
On roasting cauli for the 3rd Monday in a row…
When I said to myself…
"Enough is enough!"
When it's cold,
I like soup!
So I took a last minute detour,
Chopped up some leek,
Only because I happened to have some in the fridge,
Gave it a quick sauté,
In some good quality extra virgin olive oil…
Threw in the cauli and gave that some colour,
Before adding my quick stock…
Aka boiled water and two organic stock cubes,
To my pot.
Salt, pepper and a little more olive oil…
And I'm starting to think…
This soup is missing something!
Enter the pork!
I had some smoked belly in the fridge,
But you could use bacon or pancetta,
Chopped it up into nice sized cubes,
Fried it up in it's own fat,
And after blitzing my caulis,
And adding a little chopped spring onion and parsley,
For colour and flavour,
All that was left to add was another drizzle of olive oil,
And lots of pepper and bread!
A glass of chardonnay was notably missing,
But we're off the grog on a school night,
Clearly the soup will next make our menu on a Friday or a Saturday night?
All that's left to say now is…
Buon appetito!
– – – – – – – – – –
Ingredients
1 large cauliflower, cut into florets
2 leeks, diced
8 cups good quality vegetable stock (2 litres)
¼ cup olive oil, a little extra for drizzling
Sea salt & cracked pepper
Chopped parsley & sliced spring onions for garnish
250g fried diced pork belly for garnish
Method
Heat the oil in a large pot on a medium-high heat and sauté the leeks until they soften.
Once softened, add the cauliflower florets, and cook for 1-2 minutes, stirring.
Add the stock, season with salt and pepper and bring to the boil.
Once it has come to the boil, reduce to a simmer and cooked covered for about 30 minutes or until the florets are softened and tender.
Remove from the heat and allow to cool.
Once cooled, using a hand blender/bar mix or food processor/blender, blitz the soup until it is smooth and creamy.
Put back in the pot and heat it before serving. Season some more if required.
In a frying pan, cook the diced pork in it's own fat until crispy.
Serve the soup topped with the crispy pork, parsley, spring onion and a drizzle of olive oil with some crunchy sourdough bread on the side!