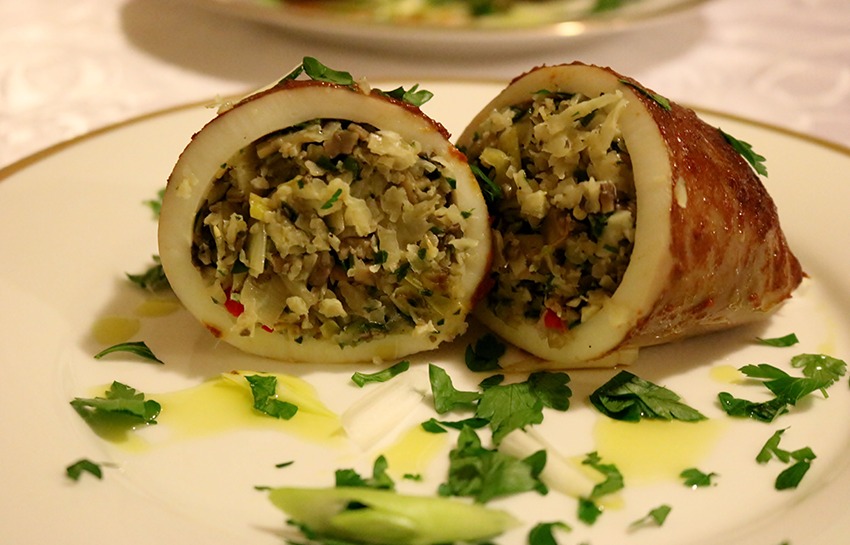 Cauli Stuffed Calamari
Many of us associate Easter with seafood.
Lots of us think seafood and salad
Or even fish and chips.
But what about calamari and cauli?
Or stuffing calamari and not using rice?
That was my challenge this week,
And it's what got me excited…
Cooking that something a little left of centre.
You see,
I had an audience of guests hungry for seafood…
But not so keen on rice!
In particular,
They were averse to the white variety.
So I thought rather than opting for a different rice,
Why not ditch rice altogether!
Not brown,
Nor black…
And not even wild!
Instead,
And maybe to challenge myself as much as anything,
I opted for cauliflower rice!
A self-confessed cauli-rice virgin,
It was the fact that local Victorian caulis are amazing right now…
And with Joe selecting them as his pick of the week,
I thought let's give the cauli-rice a go!
You know what…
It wasn't such a risk in hindsight,
Because,
When you choose fresh, local ingredients,
That are in peak season,
And match them with more local produce…
That are also eating gorgeously,
You can only be on the right path!
Leeks and spring onions danced with the cauli in this recipe.
As did the birds' eye chili and swiss flat mushrooms!
Red wine and passata sauce blanketed the delicious parcels,
And when I served the cauli stuffed calamari with some more fresh herbs,
Crusty baguette drizzled in olive oil and garlic,
Heated for extra crunch,
I knew by the lack of dinner conversation and..
How quickly my guests finished off their meals,
That I wasn't the only one loving cauli stuffed calamari.
And I'm sure you'll love it too!
Buon appetito
– – – – – – – – – –
Ingredients
2 calamari tubes
½ cauliflower
1 leek chopped
4 spring onions chopped
½ bunch parsley chopped finely
2 birds eye chilies chopped finely
2 swiss flat mushrooms chopped finely
¼ cup olive oil
200g tomato passata
¼ cup red wine
Sea salt
Cracked pepper
Method
Pre-heat oven to 200°C.ְ
To make the cauliflower rice, wash and chop the cauliflower. On the large part of the grater, grate the cauliflower and set aside.
Heat some olive oil in a pan and sauté the leek. When the leek is softened add the spring onion, chili & garlic. Leave some spring onion to the side for garnish. Season with salt & pepper and sauté for another 1 minute.
Add the mushrooms and sauté for 1 minute then add the parsley and sauté for another minute, reserving some parsley for garnish.
Turn off the heat and set aside the mix.
Take your calamari tube and seal the smaller end with a toothpick. With a spoon, fill the tubes with the mix then seal the larger end by weaving a toothpick through it.
Put the stuffed calamari in an oven dish. Pour on the olive oil and season with salt and pepper. Add the tomato passata and wine over the top.
Bake in the oven for 45 minutes. Make sure to baste the calamari every 20 minutes or so during the cooking process.
Serve garnished with parsley and spring onions.