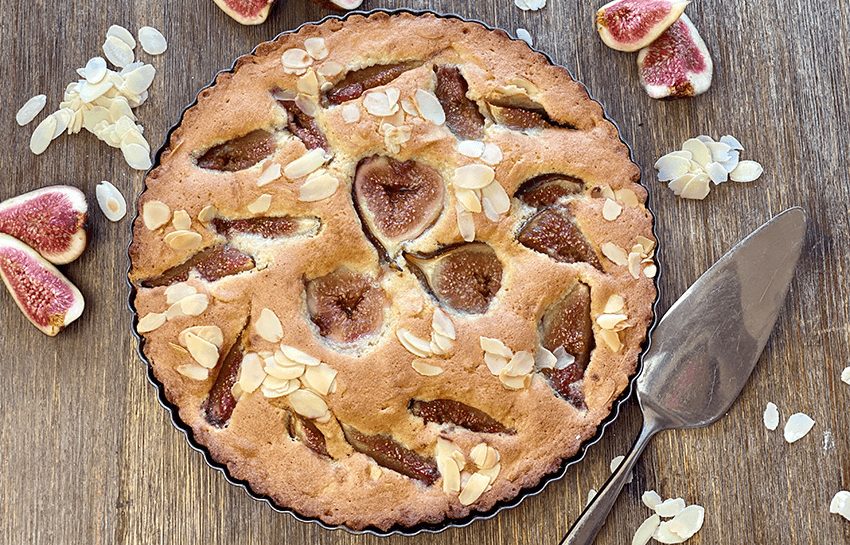 Fig, Honey & Almond Tart
Another classic Donna Hay inspired dessert!
This is a beautiful way to take advantage of the late summer price drop of figs.
As this tart bakes, the figs sweeten and turn a jammy consistency.
– – – – – – – – – –
Makes 1 28cm tart
Ingredients
130 g unsalted butter, softened
¾ c caster sugar
1 tbsp lemon zest
1 vanilla bean, split and seeds scraped
3 eggs
½ c almond meal
½ c plain flour, sifted
½ tsp baking powder
1 c flaked almonds
6 figs, quartered
¼ c honey
Method
Preheat oven to 160°C.
Lightly grease a 28cm fluted loose-bottomed tart tin.
Place the butter, sugar, lemon and vanilla seeds in the bowl of an electric mixer and beat for 6–8 minutes, or until light and fluffy.
Add the eggs, one at a time, beating well after each addition.
Add the almond meal, flour and baking powder, and mix to combine. Fold in the flaked almonds.
Spoon into the tart tin and spread until smooth.
Place the figs into the almond filling, pressing down slightly.
Place the tart tin on a baking tray and cook for 45 minutes, or until golden.
Remove from the oven and, while still hot, brush with the honey.