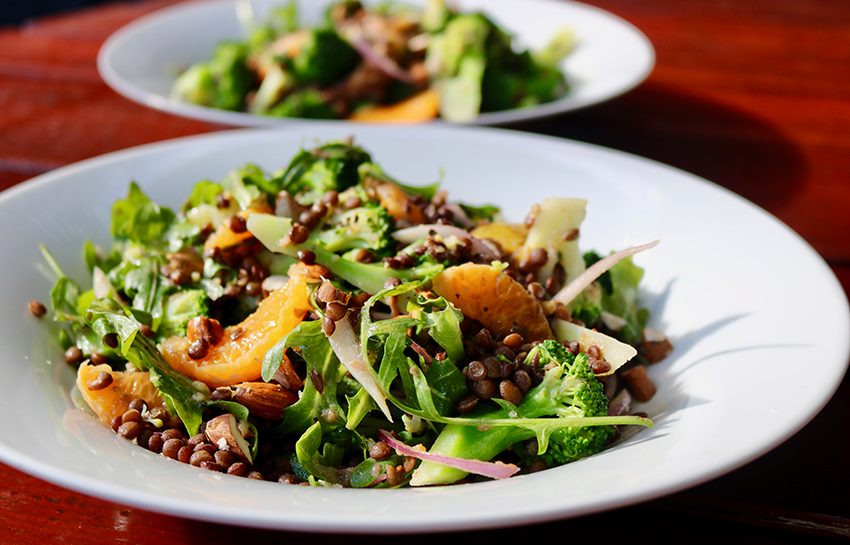 Lentil, Mandarin & Broccoli Salad
Lentils were not my friend growing up.
In my house,
They were always the green variety,
I think they're the "French Lentils"…
Boiled up and served as a soup,
With a tomato based sauce,
And garlic and onion for flavouring.
I reckon the problem was…
A combination of two things.
One…
As a kid, I was a spoiled brat,
Who never ate his greens…
Or legumes for that matter!
And two…
Also because bless her soul,
My beloved and dearly departed gran,
Who lived with me for all my childhood years,
Used to boil the absolute life out of those poor little lentils!
Oh how perspectives can change!
These days,
Lentils are at the top of my list for favourite foods.
I actually love lentil soup now that I'm all grown up,
Lentil dips…
And lentil salad too!
In lieu of the French Lentil,
I am more inclined to opt for a black lentil.
If you cook them just right,
Black lentils stay nice and firm,
And they've got so much protein and fibre in them,
You're always left feeling satisfied, even after a small serve!
This week…
I paired black lentils,
Cooked al dente…
With new season Mildura Imperial Mandarins…
Because they look great,
And taste even better.
For my green,
I've gone for both well priced Victorian broccoli,
And some wild rocket for freshness.
This salad is really simple to prepare.
My top tip is…
Rinse the broccoli & the lentils well under cold water after they're boiled…
To keep them from over cooking in their own heat,
And because no one likes a soggy salad!
Finally,
If you need more dressing than what I suggest,
Go for it!
I have seasoned with a little extra salt & pepper,
And used some mandarin segments that I kept to the side,
For final plating.
Things don't need to ne fancy,
But it doesn't hurt!
All that's left to say now is…
Buon appetito!
– – – – – – – – – –
Serves 4
Ingredients
1 cup uncooked black lentils
6 imperial mandarins, segmented
2 broccoli heads, cut into florets
1 medium red onion, sliced
2 cups wild rocket
1 garlic clove, crushed
½ cup olive oil
2 tbsp apple cider vinegar
¼ cup chopped almonds
Sea salt & cracked pepper
Method
Cook lentils as per packed cooking instructions, then strain and set aside.
Boil the broccoli florets in salted water until just tender. Strain and set aside to cool.
In a large bowl add the lentils, broccoli, onion, mandarin, and rocket and mix gently with your hands.
In a jar, combine the oil, vinegar, garlic, salt, and pepper and shake to make a vinaigrette.
Pour vinaigrette over the salad and mix to cover everything evenly.
Distribute evenly between dishes and garnish with the chopped almonds and serve.