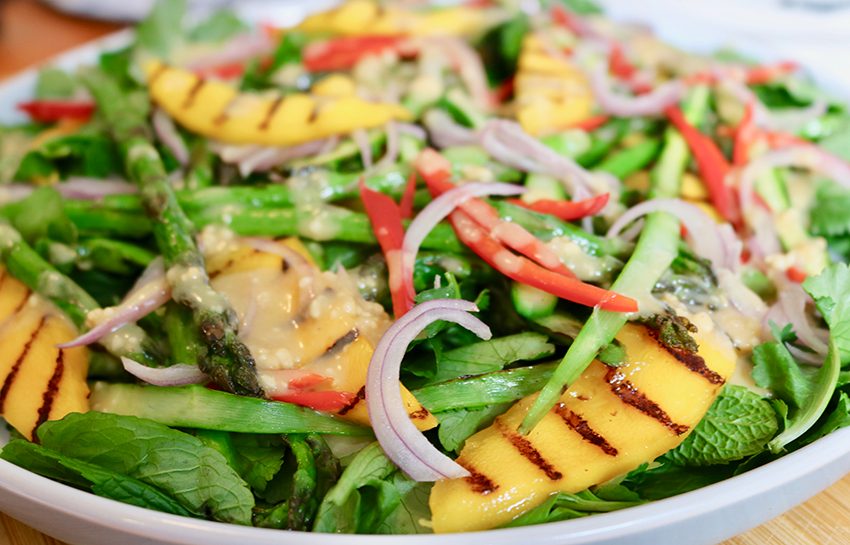 Mango & Asparagus Herbed Salad
Plate of origin may have been a one series wonder…
But I do confess to being enthralled during the final episode..
Mainly because I am a foodie…
And will watch almost any food related show.
And also because the two teams in the finals….
Happened to be faves!
Why?
Because my heritage is Greek…
I was rooting for the Greek girls…
And because I loved their food…
And they're down to earth,
And kind of funny…
The Vietnamese boys…
Were the other fave of mine.
If you are unfamiliar with the format of the show…
No need to fret…
As it is never to be aired again!
Anyways…
As with all good cliff hangers…
The Greek girls won by a whisker…
When the Vietnamese boys tripped at the finishing line…
With what was an allegedly bitter…
And one dimensional dessert…
A Vietnamese inspired Coffee Tart gone wrong.
To the victors go the spoils…
And the tidy sum of $100,000 large.
So instead of paying tribute to the Mediterranean this week..
I've opted to do a Vietnamese inspired salad…
Mango being the star…
Chili and herbs being the supporting acts.
All that's left to say now is…
Opa!
– – – – – – – – – –
Ingredients for the Salad
4 mango cheeks sliced
2 bunches asparagus, stems trimmed & cut down the middle
½ bunch mint
½ bunch coriander
1 long red chilli sliced
½ red onion sliced
Sea salt
Olive oil
Ingredients for the Dressing
1 tbsp peanut butter
1 tbsp white wine vinegar
Juice of 1 lime
1 ½ tbsp olive oil
½ tbsp soy sauce
½ tbsp honey
1 crushed garlic
1 small piece ginger crushed
Pinch of salt
Method
In a small bowl, sprinkle the sliced onion with salt and set aside. The salt will draw out some of the heat.
Heat a skillet, and grill the mango sliced until they have a nice striped char. Set them aside to cool.
In a jar, combine the ingredients for the dressing and shake the jar (lid on) until all the ingredients are mixed together and have made a dressing. Set aside.
In the skillet, heat a little olive oil and cook the asparagus until they have some colour. Make sure to not over-cook them. Season very lightly with some salt.
Wash the salt off the onion and remove any liquid.
Remove the leaves from the herbs, wash and dry them. Add them onto a serving platter (or bowl) with the onion, chilli, asparagus and mango. Pour the dressing over the top and serve.
Tip: This would go great with some vermicelli noodles.