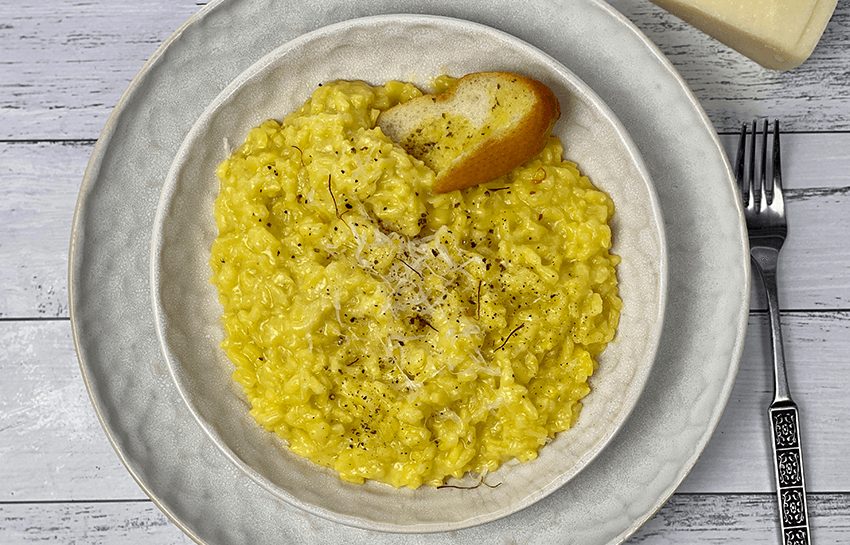 Classic Saffron Risotto
A traditional saffron risotto is a classic dish that will never go out of style.
Opt for carnaroli rice when making a risotto. Once you start working the grains, they truly do produce the best risotto.  Arborio rice is fine too, though.
This is a great recipe to double the quantity and make arancini the day after!
– – – – – – – – – –
Serves 4 – 6
Ingredients
6 c veggie stock, warmed up
Good pinch saffron threads
3 tbsp olive oil
1 medium brown onion, finely diced
2 cups carnaroli rice
A good pinch coarse salt
A good pinch black pepper
150g butter, cubed
1 ½ c Parmesan cheese, grated
Method
Bring stock and saffron to a simmer in a saucepan.
Pour olive oil in a deep saucepan over medium heat. Sautee onion with salt until soft.
Add the rice and cook, stirring, for about two minutes.
Add 1/3 cup of stock a time, stirring almost continuously.
Wait until the stock is almost completely absorbed before adding more stock.
Once the rice is tender, beat in the Parmesan cheese and butter, and season to taste with salt and pepper.