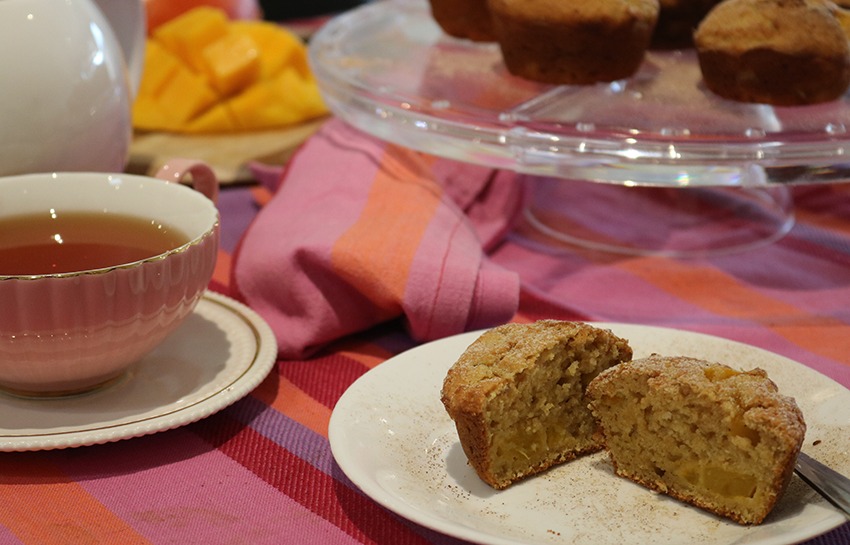 Mango Coconut Muffins
When you think mango…
What comes to mind?
The fruit itself?
Maybe a steamy tropical holiday?
What about a refreshing juice…
Or even an adult's only exotic cocktail?
Gotta say…
Muffins weren't exactly in my top 5 when I thought mangoes but…
That's all changed this week!
We've turned Joe's pick of the week,
The sensational Keitt Mango…
Into a mango & coconut muffin!
Why a mango & coconut muffin and not all that other stuff that mangoes are usually known for?
I'm glad you asked.
This crazy Melbourne weather…
Hot…
Really hot…
Even hotter…
Cold…
Can get a little confusing.
So,
Rather than playing to the heat,
We've played to our (three) kids' demands instead.
They wanted a tasty sweet treat for their lunch box…
And that's what we've given them!
We've made them healthy by…
Going light on the sugar…
Adding Greek yoghurt for all that good protein & fat and…
Of course…
Plenty of fresh, sweet, exotic & Vitamin C rich…
Keitts mangoes!
Coconut adds another lovely sweet & textural element and…
It keeps reminding us grown-ups of the things we love.
That beautiful brekkie juice…
Lovely tropical cocktails…
Prawn & mango salads or simply,
A yummy companion to our morning coffee if we can't get all that other stuff right now!
– – – – – – – – – –
Ingredients
1 cup self-raising flour sifted
1 cup plain flour sifted
½ cup caster sugar
2 eggs
½ cup coconut milk
½ cup Greek yogurt
¼ cup coconut oil melted then cooled to room temperature
½ tsp ground cardamom
1 tsp ground cinnamon
1 tsp vanilla extract
¼ cup desiccated coconut
1 large Kiett mango diced, pip set aside
Pinch of salt
Method
Pre-heat oven to 220°C.
Grease a 12 pan muffin tray with coconut oil.
In a large bowl add the flours, sugar, cardamom, cinnamon, salt & desiccated coconut and stir until combined.
In another medium bowl add the milk, yogurt, vanilla extract & coconut oil and whisk together. Add the eggs and whisk until combined. Using your hands, squeeze out all the mango juice from the pip you set aside into the mixture and stir to combine.
Add the wet ingredients into the dry ingredients and fold through until combined. Add the diced mango and fold through evenly.
Spoon mixture evenly into the 12 muffin pan and bake in the oven for 25-30 minutes.
Remove from oven and cool on a wire rack before serving.