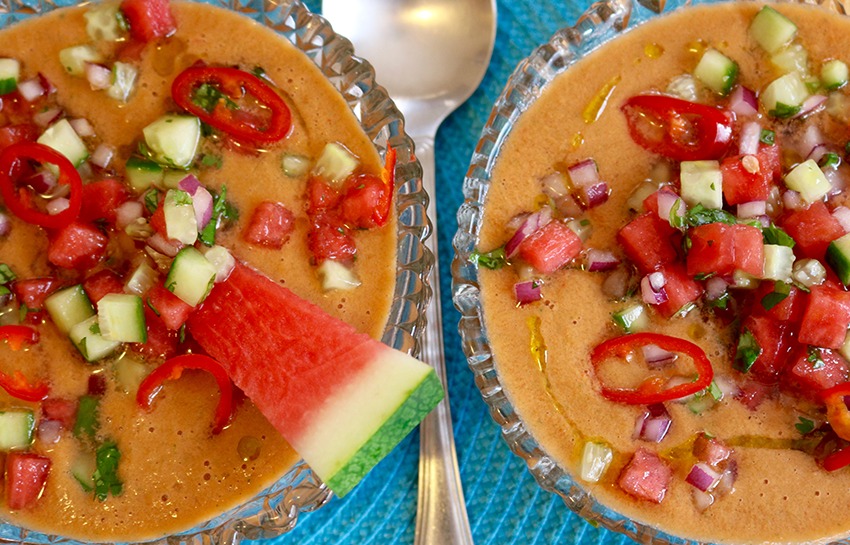 Watermelon Gazpacho
I always thought Gazpacho was a Spanish thing, but….
My research tells me that Roman soldiers could well have been the ones to start off the cold soup craze…
With soldiers turning rations of bread, garlic & vinegar into a cold soup!
But Yes…
It was the Spanish of the Andalusian region – an autonomous community of Spain…
That evolved it into the version we are familiar with today.
By adding veggies & almonds and pounding them together with the base ingredients…
Creating a more flavoursome soup than the poor Roman soldiers were used to!
Over time…
As the soup spread across Spain & Portugal…
Tomato became the base of the soup after Christopher Columbus brought the fruit back to the continent!
And nowadays watermelon, cantaloupe, cucumber & all sorts of herbs, fruits & veggies are added…
As people all over the world enjoy their version of Gazpacho.
We're sure you'll enjoy ours!
Buon appetitio
Or as they say in Spanish
Buen apetito!!
– – – – – – – – – –
Serves 4
Ingredients
For the Soup
3 cups watermelon chopped
1 Lebanese cucumber trimmed & chopped
2 tomatoes chopped
½ long hot red chilli chopped (optional)
½ red onion diced
1 celery stick chopped
3 tbsp coriander chopped
1 lime juiced
¼ cup olive oil
1 tbsp red wine vinegar
Sea salt
Cracked pepper
For the Garnish
½ long red chilli sliced diagonally (optional)
½ cup watermelon chopped into little cubes
½ Lebanese cucumber chopped into little cubes
2 tbsp coriander chopped
¼ red onion diced
1 tbsp red wine vinegar
Sea salt
Cracked pepper
Method:
Place all ingredients for the soup, except the olive oil, into a blender and blitz until combined.
Slowly add in the olive oil and blend until smooth.
Place in the fridge to chill for 3-4 hours.
In a bowl, add all the garnish ingredients, except for the chilli, season with salt & pepper and mix well to combine.
Divide the soup into bowls, garnish with the garnish mixture, add the red chilli, drizzle with some olive oil & serve!!
Note: If you can get your hands on some, you could use jalapeno's in place of the long red chilli.