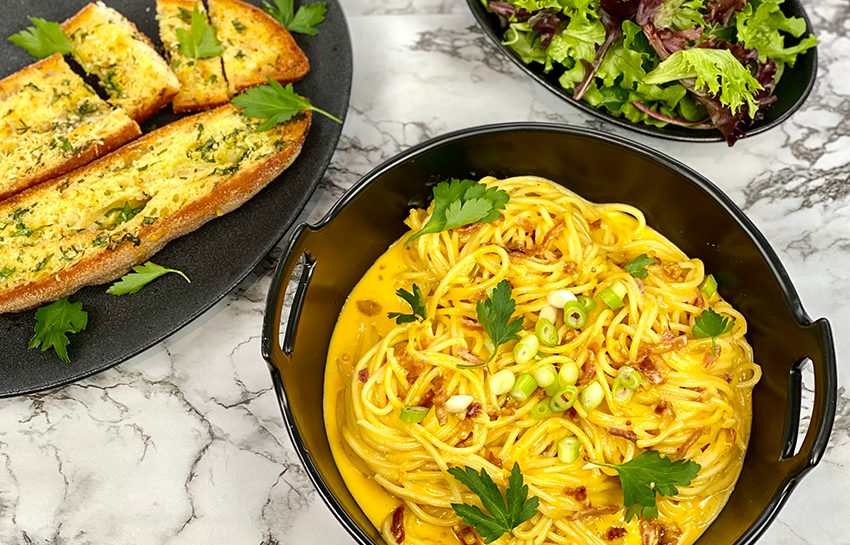 Carbonara with Spring Onions
Most people love a good creamy carbonara! The argument happens when we debate the idea of cream or no cream.
Yes, traditionally this famous pasta sauce was made with egg yolks only, no cream. And we have members of our team and family who will debate it until blue in the face.
But, today we say to you, cook it how you love it! If you want cream, add cream. If you don't want cream, add a couple more egg yolks. Do what ever makes you happy!
The golden rule is to have a nice yellow colour once you've whisked it all together. If it doesn't look yellow enough to you, add another egg yolk.
You will only really run into trouble if you add the sauce while you still have heat under your frypan. No one likes scrambled eggs in their carbonara, and that we think is a fact!
– – – – – – – – – –
Serves 4
Ingredients
1 pack spaghetti
4 to 5 egg yolks
½ cup good Parmesan – finely grated
½ cup cream
Bacon or pancetta – thinly sliced
2 cloves garlic – crushed
2 spring onions – mainly the pale part – finely sliced
Verjuice or dry white wine – a very big splash
Your choice of pasta (1 pack) with a cup of the heavily salted cooking water reserved from the pot
Freshly ground salt and pepper
Method
Put a large pot of heavily salted water over high heat to come to a boil.
Place the egg yolks in a bowl and whisk well. Add the cream and whisk some more. Season with freshly ground salt & pepper, add the cheese and mix through. Set aside.
Cook pasta as per packet directions and remember to reserve a cup of the cooking water once the pasta is cooked to your liking.
While the pasta is cooking, fry the bacon until almost crisp, add the garlic and a small amount of the spring onion. Cook until fragrant, then add the verjuice or wine (adjust the quantity to suit your taste), and cook off the alcohol.
Add in drained, hot pasta, and toss through the bacon and juices.
Next, REMOVE THE PAN COMPLETELY FROM THE HEAT and, working quickly, stir through the carbonara sauce. Tongs and a spoon are the easiest way.
Throw some fresh spring onion over the top, a grating of Parmesan cheese, and serve immediately.