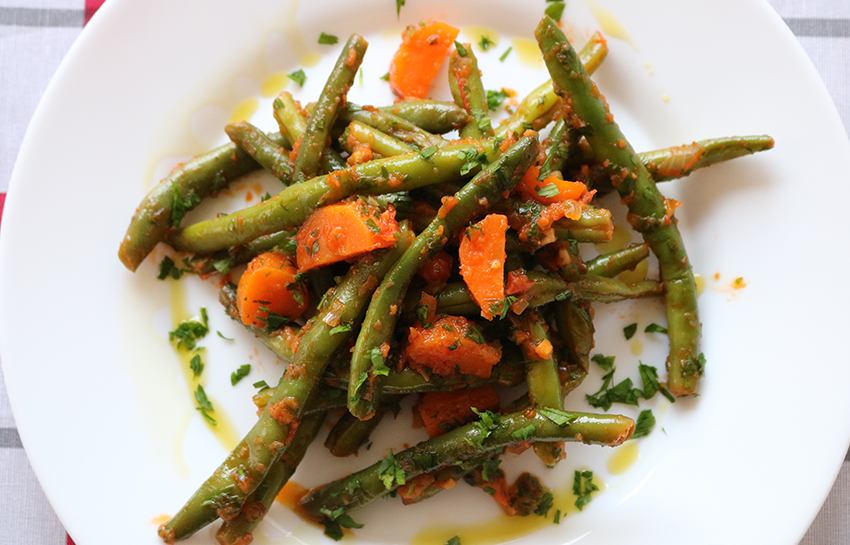 Saucy Green Beans
The name alone of this dish should be enough for many of you to give it a go!
This dish is an old Greek classic known as Fasolakia Ladera Kokkinista.
This literally translates to Beans Oily Reddened.
Now the dish isn't oily, but olive is one of the 3 core ingredients, so…
Our advice is get your hands on exceptional extra-virgin olive oil as it will lift the taste of the dish to another level.
Obviously green beans are the star and instore this week we have some amazing, peak-season, hand picked beans from Queensland.
Reddened refers to the 3rd core ingredient.
Can you guess what it is?
If you said tomatoes, you got it in one!
In this recipe we've used sauce from the jar…Salsa De Nona or some other exceptional sauce will ensure that your Saucy Green Beans are delicious!
Being winter, we were also looking for a dish to warm you…
It will do just that, and for those of you (us) that like a glass of red in the winter, this is the perfect dish to pair your reds with.
It's a dish that eats well on the first night it's prepared and also has the advantage of tasting amazing on day 2 & day 3 even!
So if you feel like preparing in advance, know that it will be good for at least 2-3 days!
Not much else to say other than happy cooking and even happier eating.
Buon appetito!
– – – – – – – – – –
Serves 6
INGREDIENTS
1kg long green beans topped & tailed
3 carrots chopped
1 large onion diced
1 cup olive oil
2 garlic cloves chopped finely
400g organic tomato passata
½ cup chopped parsley & a little extra for garnish
1 bay leaf
1 cup of hot water
Sea salt & cracked pepper
METHOD
Heat half the oil in a large pot and sauté the onion until softened.
Add the garlic for about 1 minute then add the carrots. Cook stirring for 2 minutes.
Add the tomato, water, bay leaf, remaining oil and salt & pepper.
Bring to the boil then reduce to a simmer for 30 minutes or until the sauce has reduced and developed. Keep an eye on the sauce, if it looks too dry you may need to add a little extra water.
Add the green beans and cook, stirring occasionally, until beans are tender, around 15-20 minutes.
Remove from heat and add the parsley and stir to combine.
Serve garnished with extra parsley.
Tip: Feta cheese & crispy dark rye bread is the perfect accompaniment to this dish!!