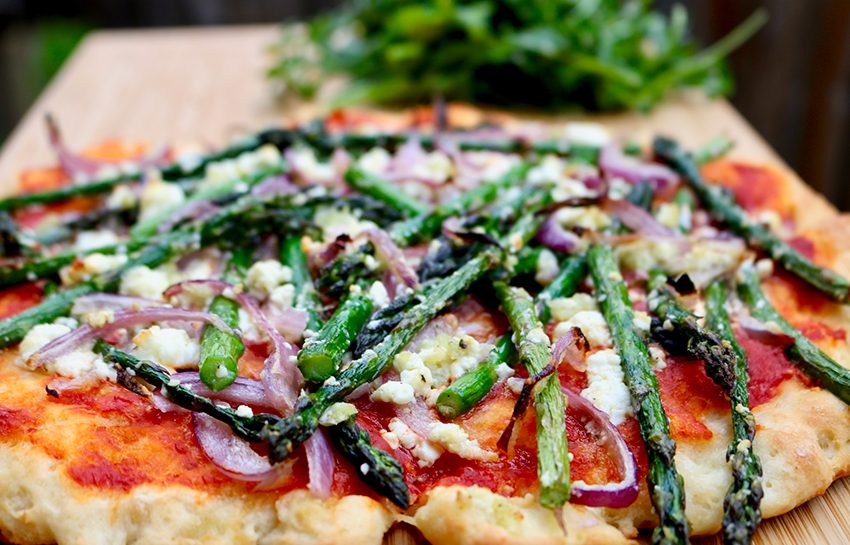 Asparagus & Feta Pizza
Growing up,
Friday night…
Was almost always take away night!
My uncle and auntie,
Along with my two cousins,
Would usually be over for the ride.
We were two families of 4,
Plus my grandparents…
Made a total of 10…
Not that grandad ever ate any of what we were having!
Those were the days of Sale of The Century,
Scott & Charlene…
And when football was played on Saturdays,
And almost always in Melbourne.
The menu was pretty consistent,
Souvlaki from Flames Greek restaurant in Balwyn…
Sophie from Cyprus who owned the place,
Not only made delicious souvas,
She was also lovely to be around!
Whilst on every other weekend,
Pizza would feature,
From Da Pinos restaurant in Box Hill…
A few weeks back we featured souvlaki,
So this week,
With nostalgia back on the table,
I thought we'd give pizza a go,
Of the gourmet variety!
My days of Capricciosa and Hawaiian are not totally behind me,
I still do love a traditional salami olives,
Margherita too!
But these days,
Experimenting with whatever I've got in the house,
And especially veggies that are in season,
Is the way I like to do our pizza nights,
Putting a twist on classic combos,
Like egg and Jerusalem artichoke,
Broccoli and anchovy,
Or in todays' case,
Asparagus and feta.
I love old school,
And old school pizza will always have a place on the menu.
But mixing it up,
Is the way moving forward…
At our house at least!
All that's left to say now is,
Buon appetito!
– – – – – – – – – –
Ingredients for the base
2 cups plain flour
4 tsp baking powder
1 ½ cups full fat Greek yogurt
2 tsp olive oil
Pinch of salt
Ingredients for the topping
4 bunches baby asparagus, stems trimmed
1 red onion sliced
100g feta cheese
4 tbsp tomato passata
8 tbsp olive oil
4 garlic cloves garlic cloves crushed
Method for the base
In a large bowl, add the flour, yogurt, olive oil and salt and work into a dough. Set the dough aside until it's time to divide the pizza bases.
Method for the pizza
Pre-heat your oven to 180°C.
In a small bowl mix the olive oil and the garlic.
In a large bowl add the asparagus, feta, onion and the garlic oil and mix together well to combine.
Divide the dough into two.
Oil a round pizza/oven tray. Add the dough and using your hands spread it out into a large round pizza base.
Spread 2 tbsp passata over the pizza and then cover with half the asparagus mix. Repeat with the other half of the dough. Drizzle the edges with a little extra olive oil.
Cook in the oven for 20 minutes or until the pizza is nicely browned. Check the base to make sure it's cooked.
Serve with a fresh rocket salad!