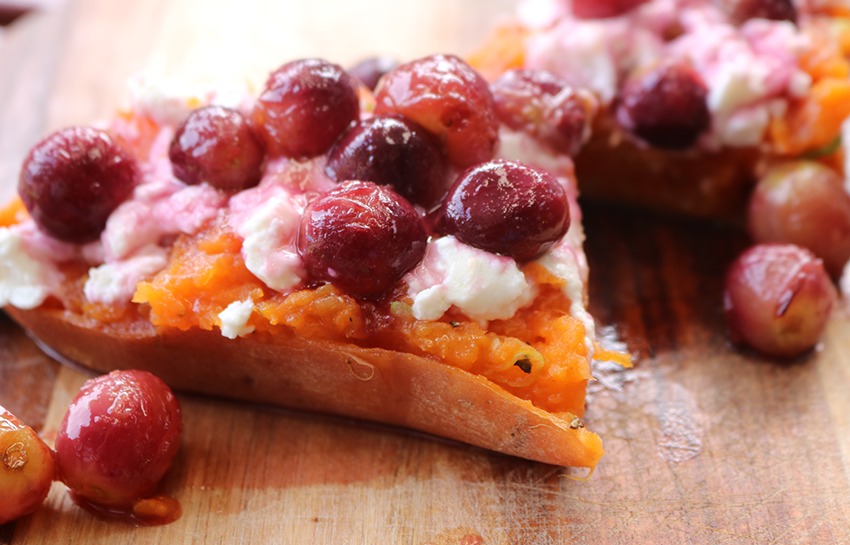 Sweet Grape & Goat
You know that feeling,
When you're cooking a new a dish,
And…
You're not quite sure how it's going to end up?
I get that all the time,
Because I just love experimenting with food!
Sometimes,
The experiment goes wildly wrong!
Inedible!
Weird!
Or just not quite right!
This dish…
That allowed me to combine fairly common ingredients,
In a somewhat unusual way,
Had me guessing at every stop!
Red grapes and goat's cheese – I was very comfortable with.
Goat's cheese and sweet potato…
Sounds good too!
It was the trilogy,
Sweet potato, goat's cheese and red grapes…
That was going to be interesting.
The outcome?
Triumph!
But not exactly as I expected.
I thought I was going to deliver a delicious side…
But I didn't.
And when I didn't get my side dish…
I was really worried that I'd wasted my ingredients.
But when my buddy Matt…
Dinner guest for the evening,
Suggested that it was an excellent way to end the night…
Presto!
You see,
Life is but a series of events and…
Depending on how we view these events,
They can be seen as positive… or maybe negative!
Good… or even bad!
Sweet… or a little sour!
Success for you might be failure for me.
Failure for someone else could be learning in disguise.
Main or side?
Side or dessert?
This week sweet potato morphed from not so savoury side,
To feisty sweet dessert and…
New season red grape earned its place as this week's hero!
Buon appetito!
– – – – – – – – – –
Ingredients
2 medium sweet potatoes
2 cups red seedless grapes
2 spring onions
150g goats cheese
2 tbsp honey
1 tbsp olive oil
Sea salt
Cracked pepper
Method
Pre-heat oven to 200°C.
Wash & dry the sweet potatoes and then with a fork, poke holes into them. Wrap the potatoes in aluminium foil and bake in the oven for around 60-80 minutes depending on the strength of your oven. They'll be ready when they're tender to touch.
Remove from oven, unwrap them from the foil and with a knife cut them in half lengthways so you have four halves. Set aside to cool.
While the sweet potato is baking in the oven, heat the olive oil in a pan on medium heat and add the honey & grapes. Cook for 5 minutes, stirring, until you see the skin of the grape splitting or blistering. Set aside to cool.
Once the sweet potato has cooled slightly, using a spoon, scoop out the potato and put in a bowl. Keep the potato skins aside.
Mash the sweet potato with a fork. Add the spring onion and season well with salt & pepper then stir to combine.
Spoon the potato mash into the potato skins you set aside. Crumble goat's cheese over the top then add the grapes, spooning some of the syrup from the grapes and drizzling over the top & then serve.