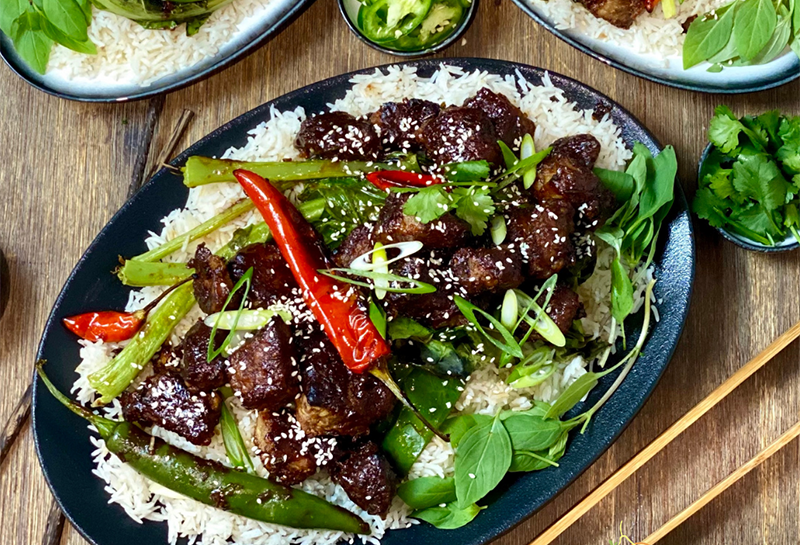 Sticky Ginger Pork and Chinese Broccoli
We are exploring Asian flavours this week, and we couldn't go past a gingery, sticky pork dish with this week's pick of the week, Chinese broccoli.
You can up the nutritional value by serving it with brown rice.
We've used pork shoulder in this recipe, but you can use any cut. You will get a better result if the pork has a little fat. Also, it's less likely to dry out.
If you're not a huge pork fan, ask your butcher if they sell female pork, it doesn't have a strong smell like male pigs do. Chicken works well too!
If you like a little heat, add a heaped teaspoon of dried chilli flakes to the sauce!
– – – – – – – – – –
Serves 4-5
Ingredients
1 kg pork, diced
1/3 c flour
Coarse salt
Cracked pepper
1 tsp Chinese five spice
Olive oil
Sesame oil
½ c tamari or soy sauce
1 tbsp ketjap manis
1/3 c pomegranate juice
1 tsp pomegranate molasses
2 tbsp rice wine vinegar
1 tbsp peanut butter
4 cloves garlic, crushed
2 inches ginger, grated
2 tsp sesame seeds
1 bunch Chinese Broccoli
6 whole chillis
Method
Preheat oven to 200°C.
Line an oven tray with baking paper.
Add flour, a pinch of salt, pepper, Chinese five spice and combine in a bowl.
Lightly dredge pork in the flour, place on the baking tray, spray or lightly drizzle with olive oil and a little some sesame oil, and bake for 15 minutes.
Turn pork and bake for a further 15 mins or until cooked through.
Line another tray with baking paper, lay on Chinese broccoli, drizzle with olive oil and a little sesame oil, and scatter over the chillies. You can add more chilli if you want.
Cook for 12 mins or until the leaves just start to wilt.
Meanwhile combine sesame oil, tamari, ketjap manis, pomegranate juice and molasses, rice wine vinegar, peanut butter, garlic and ginger in a small saucepan. Bring to a boil, turn down the heat, and then simmer for about 6 mins.
Pour over the pork, toss to make sure it's coated, and return to the oven for about 3–4 mins. Then, scatter over sesame seeds.
Serve them both with rice and garnish with fresh chilli, coriander and Vietnamese mint.