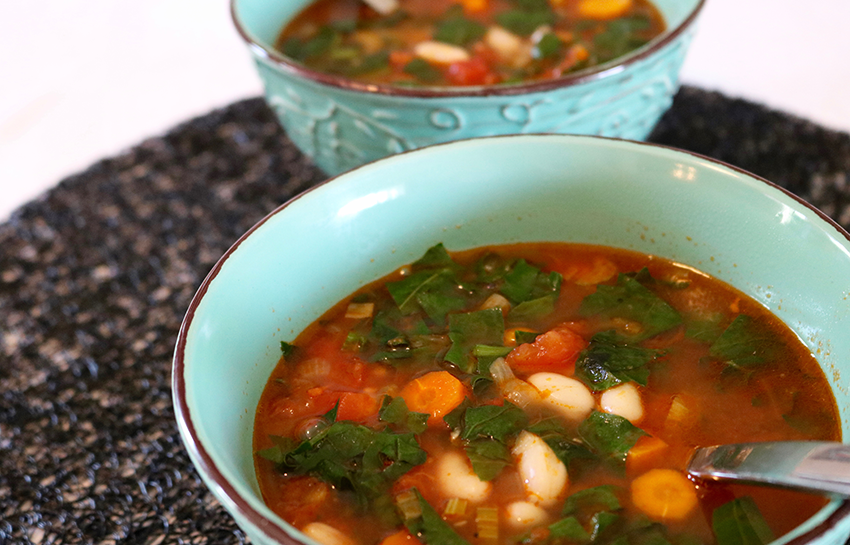 Silverbeet & White Bean Soup
When you were a kid or maybe even a teenager, did you think of soup as a meal?
I sure didn't, but this is exactly what this recipe of the week is — a super tasty, extremely hearty, simple & delicious MEAL!
Silverbeet (also known as chard or Swiss chard) and white beans are loaded with fibre, vitamins & protein, so this unassuming bowl of soup ticks all the boxes to satisfy your appetite.
With Melbourne only getting deeper into winter, this is a fantastic way to warm up whilst fuelling your body. And, because soups are easier to digest than other types of meals, your body absorbs so much more of the nutrients… keeping your immune system charged and allowing you to stay healthier during the colder months.
Before you get stuck cooking this gorgeous meal, keep in mind that you can add or substitute whatever other veggies you prefer or have on hand. For all the vegans and vegetarians out there, just substitute the chicken stock with vegetable stock, and you have yourself a vegan/vegetarian meal!
Buon appetito
Serves 4
Ingredients
1 bunch silverbeet stems removed & leaves chopped coarsely
2 carrots chopped
2 celery stalks chopped
1 red onion chopped
2 garlic cloves crushed
400g canned white beans
400g canned diced tomatoes
1 litre chicken stock
3 tbsp olive oil
Sea salt & cracked pepper
Method
Heat the olive oil in a large pot and on medium high heat sauté the onion until translucent.
Add the crushed garlic and once you smell the garlic add the carrot and the celery and sauté for around 5 minutes.
Add the tomatoes and cook for a further 5 minutes.
Pour in the chicken stock and season with salt and pepper. Bring to the boil then reduce the heat and simmer, covered, for 15 minutes.
Add the beans and the silverbeet and cook for 2-3 minutes or until the leaves have wilted.