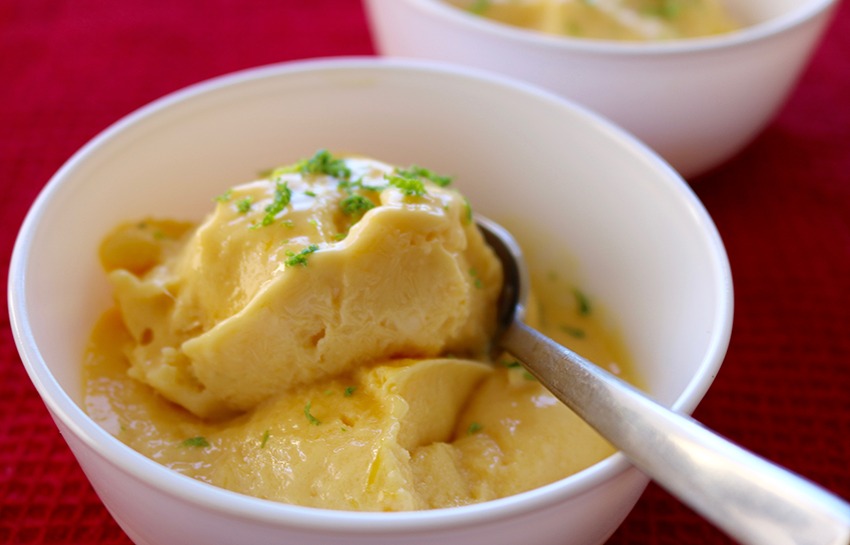 Honey Mango Frozen Yogurt
When the kids are fighting over the last scoop…
And mum & dad also want a piece of that action…
You know you're on a winner!
The only problem with this week's recipe of the week…
Honey mango frozen yoghurt…
Was there simply wasn't enough!
I was concerned that with no sugar and…
With only a couple of tablespoons on honey…
The flavour just wouldn't be there.
Boy was I wrong!
The gorgeous sweetness of the new season mango…
Along with the added richness that came from our pure Australian honey…
Made the lime juice & zest a MUST!
When preparing the desert, we did find you needed to be patient when blending the frozen mango with the other ingredients.
We'd pulse & then stop the blender every time the ingredients would get stuck.
Then we'd use a wooden spoon to loosen the ingredients and…
Repeated this process until we got a smooth texture.
By the time we finished the blending part, we just had to pour the mixture into a container & freeze as it was more of a smoothie or a soup than frozen yoghurt.
If you've got better equipment you may even be able to serve this straight after blending – either way, it's worth the wait!
Next time I make this, I'm gonna use some desiccated coconut both in the mixture & for garnish.
I did try some for garnish and it was awesome.
And although I was very happy with the flavour combo I'm sure the coconut would give it another lift of flavour & texture.
Finally, you could definitely use frozen bought mango cheeks in lieu of fresh, but given it's mango season, why not use the fresh stuff.
Frozen berries would be a good alternative for those that aren't mango fans and even just for a change of colour & flavour.
That's all from me…
Looking forward to hearing about & seeing your favourite frozen yoghurt combination.
Buon Appettito!!
– – – – – – – – – –
Ingredients
2 cups mango diced
¾ plain Greek yogurt
2 tbsp pure Australian honey
½ lime (juice & zest)
Method
Put your diced mangoes in the freezer to freeze overnight.
In a food processor or blender, add the frozen mango, yogurt, honey & lime juice and blitz until smooth.
Put mixture into a container and put in the freezer to firm.
Scoop out one ball per bowl & garnish with zest of lime.