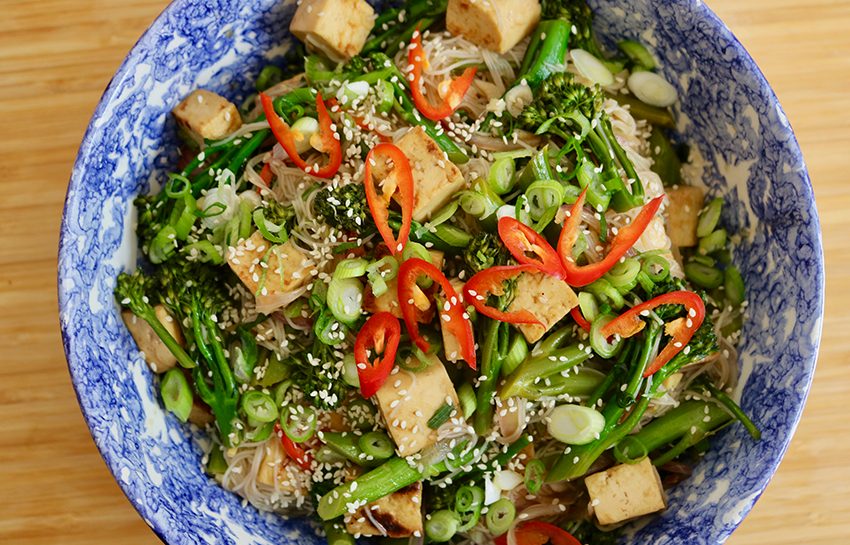 Broccolini & Tofu Noodles
If you had to pick one of the two,
Sharer or non-sharer…
What would you be,
When it came to food?
I'm 100% a sharer.
I love to share every meal of the day…
Whether it's dinner,
Lunch…
And even breakfast.
My wife was the total opposite to me when we first met…
Always preferring to eat meals that didn't involve sharing.
One day,
We ordered noodles from the old Noodle Box store in Camberwell.
I never could eat a whole box of noodles,
And I really liked trying 2 or 3 different options when we ordered.
I reckon I had ordered Hokkien With Black Pepper Beef.
Either way,
A friend of ours ordered something different to me,
On the basis we were going to have a try of one and others…
While my wife was adamant she wanted a box for herself.
I won't say we had an argument…
But I did push it until eventually I gave up just before we got home,
Because I could see my efforts to share three types of noodles were going nowhere.
As my wife went to sit down on the couch,
And start eating her box of noodles,
She tripped over this old shaggy red rug we had,
And her whole box of noodles tipped onto the pile of shay carpet!
It's fair to say I felt vindicated…
We all broke out into laughter,
And I let her have some of mine…
Not because I'm that nice,
But because a whole box of noodles was
And still is,
Too much for me!
– – – – – – – – – –
Ingredients
375g firm tofu cut into bite size cubes
2 bunches broccolini cut into pieces
1-2 long red chillies sliced
1 red onion sliced
4 spring onion sprigs sliced
2 garlic cloves chopped
1 tbsp chopped ginger
4 tbsp soy sauce
2 tbsp Worcestershire sauce
2 tbsp sesame seeds
200g rice noodles
Olive oil (or other oil of your choice)
Sea salt
Cracked pepper
2 cups starchy water from the cooked noodles
Method
Cook the noodles one minute under the packet instructions. Reserve 2 cups of the starchy water they were boiling in, then strain the noodles, rinse and set aside.
In a large pan, dry fry the tofu until they have browned then remove them from the heat and set aside.
In a wok, heat 2 tbsp of oil and add half the broccolini. Season with salt and pepper and cook stirring for 1 minute. Remove the broccolini from the wok.
Heat another 2 tbsp of oil and repeat with the second half of the broccolini. Remove the broccolini from the wok.
Heat a little more oil in the wok then add the red onion. Cook for half a minute, then add the ginger, chilli and garlic. Give them a mix together for about half a minute then add the tofu. Toss them together to combine them well, about a minute, and then add the broccolini, half the spring onion, the sesame seeds, the sauces and the starchy water and cook for around 2 minutes.
Add the noodles and toss them all together for another minute.
Remove from heat and serve garnished with chilli and the remainder of the spring onion and with some extra soy sauce on the side.